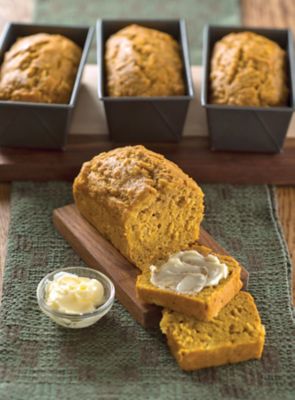 Pineapple Pumpkin Bread
Lorraine Darocha's bread recipe is a versatile one. "If you like the bread very mild, omit the spices," writes Lorraine, of Mountain City, Tenn.
1 can (20 oz.) crushed pineapple
1 egg, beaten
1 cup canned pumpkin
¼ cup margarine, melted
1 cup sugar
2¾ cup flour
2 tsp. baking powder
1 tsp. baking soda
1½ tsp. pumpkin pie spice*
1¼ tsp. salt
1 cup raisins, optional
½ cup chopped walnuts, optional
*If no mixed spice, use
1 tsp. cinnamon
¼ tsp. ginger
1⁄8 tsp. cloves
1⁄8 tsp. nutmeg
Mix pineapple, egg, pumpkin, and margarine. Blend in sugar.
Mix dry ingredients and fold well into the first mixture.
Stir in raisins and walnuts.
Bake in a greased and floured 3"x6"x2" loaf pan at 350 degrees for 45-50 minutes or until toothpick pulls out dry. Cool on rack 5 minutes. Bake small loaves for 20-25 minutes.
Turn out of pan and cool completely.
Store in refrigerator between servings.
Makes one large loaf or three small loaves.