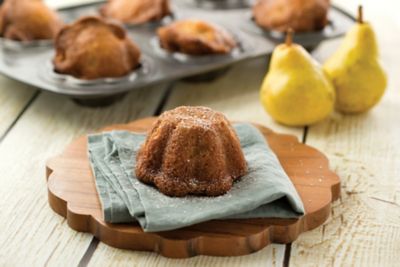 Pear Bread
"This bread is a family favorite," writes Doreen Tissue, of Sheridan, Mich.
1 cup sugar
1 tsp. baking powder
1 tsp. baking soda
2 cups flour
1 tsp. salt
1½ cups pears, peeled, cored, and diced in 1/2-inch pieces
2 eggs
1 cup sour cream
2 tsp. vanilla
Mix together dry ingredients.
Add liquid ingredients.
Mix all ingredients together.
Grease bread or muffin pans and dust with flour.
Bake 50 minutes at 350 degrees for bread OR bake 20-25 minutes at 350 degrees for muffins and bundt cakes.
Yields one large loaf, 8 muffins, or 8 small bundt cakes.