Deluxe Raspberry Muffins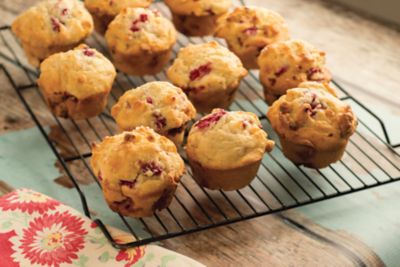 Submitted by Naomi Cook
This recipe yields about two dozen "incredibly delicious" muffins, writes Naomi Cook of Midland, Mich.
Ingredients
Dry ingredients:
4½ cups flour

¾ cup sugar

2 Tbsp. baking powder

½ tsp. salt

Liquid ingredients:
½ cup butter
½ 2 eggs
½ 1 tsp. almond extract
½ 1 tsp. vanilla extract
½ 2 cups goat milk (or whole milk or half-and-half cream)

2 cups raspberries (fresh or frozen)
1 cup white chocolate/vanilla chips
Sugar for sprinkling (optional)

Directions
Sift dry ingredients.
In a separate bowl, combine liquid ingredients.
Stir liquid and dry ingredients together until blended.
Add raspberries and chocolate; gently stir until combined.
Drop batter into greased muffin tins. Sprinkle with sugar if desired.
Bake at 375 degrees for about 25 minutes. Cool slightly (about 5 minutes) before removing from pan.
Yields about 2 dozen.