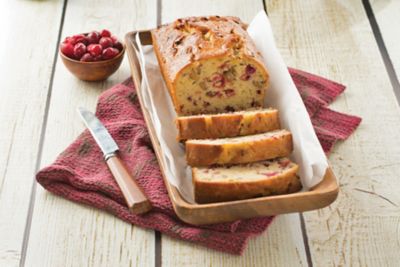 Cranberry Bread
"This recipe has been in my family for years," writes Dana McNair, of Indian Trail, N.C. "It's delicious, and so easy to make."
2 cups flour
1 cup sugar
1½ tsp. baking powder
1 tsp. salt
3 Tbsp. butter
¾ cup orange juice
1 tsp. grated orange peel
1 egg
1 tsp. vanilla
1 cup coarsely chopped cranberries
½ cup chopped walnuts
Preheat oven to 350 degrees.
Combine dry ingredients.
Combine and mix the butter, juice, orange peel, egg and vanilla in a separate bowl.
Add to dry ingredients and mix until blended.
Fold in cranberries and walnuts.
Pour batter into greased large loaf pan. We used a 9"x5"x2.5" loaf pan.
Bake one hour until a toothpick inserted into the middle comes out clean.
Yields one large loaf.