SENIOR HORSES
Consider age before beauty when buying your child's first horse
By Heather Smith Thomas
Photography from iStockPhoto.com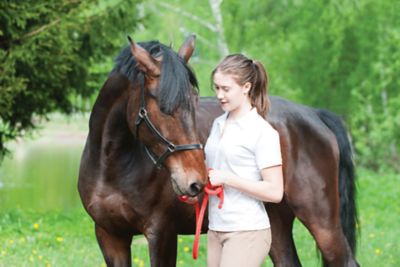 A child's first horse should be safe, trustworthy, patient, and dependable, which means that a young, untrained, or inexperienced horse probably isn't the best choice. Instead, it's better, and safer, to pair an inexperienced child with a kind, wise, older horse that won't be alarmed by the child's mistakes. An inexperienced horse often reverts to instincts of fight or flight when startled or confronted with something new, possibly causing injury to the child, whereas the older, well-trained horse is more tolerant and unflappable.
A patient, older horse can give the child confidence and be the perfect partner as the child learns how to ride and handle a horse. The younger, less-experienced horse may be too much of a handful for an inexperienced rider, possibly destroying her interest in horses. The best situation for your child's first horse is to find one that's had good general training, rather than a horse that has only done one thing all his life, such as racing, roping, barrel racing, or some other speed competition.
The horse's temperament and past history are important; you don't want a skittish horse that's nervous because of previous bad handling; he may cause an accident because of his reactions to the mistakes of a beginning rider. You don't want a horse with bad habits such as biting, kicking, bucking, rearing, pulling back when tied, and other behaviors that could be dangerous for a child. The ideal first horse is an older, well-trained, sound animal with a good disposition. The older horse may have some impairments and blemishes that caused retirement from a performance or show career, but won't be a hindrance to the work he'd be doing as a child's mount.
Horses in their late teens and early 20s can make a good beginner's horse because, with good care, they can often go on for many years. Some of them may have a little arthritis, especially if they worked hard in their early years, but can be happy and comfortable with continued light work. Arthritic joints stay more functional and less stiff or painful if the horse has regular exercise. The main consideration is to start each ride at a walk to warm up stiff joints before progressing to faster gaits. The older horse may need a little more dental and possibly a senior feed or supplement as he ages, if he has trouble chewing regular feeds in later life.
Regular deworming, vaccination, and all the care you'd give any horse become a little more important for the senior equine, but with a little help, many of these horses can continue to be your child's best friend during his or her growing-up years. Most of these good old dependable horses will last until the child moves on to other interests or becomes serious about a career with horses and is ready to advance to a younger horse. So, choose wisely when buying your child's first horse and consider a senior animal. It's often the special bond between a child and a kind old horse that inspires a lifelong love of horses. ★
Heather Smith Thomas, author of several equine books, started her children off on older horses.