'WALKING ON EGGSHELLS'
Feed your horse correctly to prevent debilitating laminitis inflammation
By T. L. Dew
Photography from iStockPhoto.com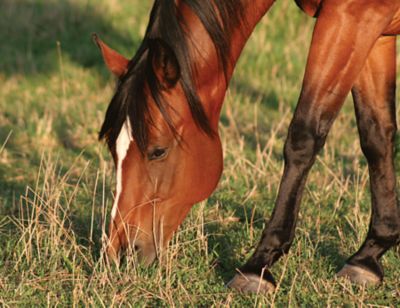 Allowing a horse to spend endless hours eating lush green pasture grass might seem like a gentle way of pampering him, but in reality that habit could endanger the horse by increasing his chances of developing laminitis. Laminitis is inflammation of the lamina or tissues between the hoof wall and the pedal bone on a horse's foot. The inflammation can interrupt the blood supply to the foot causing the tissue to die. That can lead to debilitating pain and, in severe cases, result in euthanasia.
Laminitis threatens all equines, including ponies, and can occur in any horse at any age at any time, says Dr. Braden Shafer, a veterinarian for 18 years. His practice, Shafer Equine Services in Loma, Colo., focuses on treating equines. "It's difficult to reverse," Shafer says of the damage caused by laminitis. "It's far better to prevent it." The inflammation can occur for many reasons — fever, bacterial infections, or certain toxic events. But most of the laminitis cases Shafer sees are related to what the horse is eating.
The importance of monitoring the horse's diet and maintaining a healthy weight cannot be overstated, he says. Owners who put a horse out to pasture and let her eat at will without noticing weight gain are making a terrible mistake. "Unfortunately, many lay people miss the mark when they don't recognize that this horse is dripping fat and has a cresty or bowed neck," Shafer says. A cresty neck is the accumulation of fat along the top ridge of the neck on an equine. "If you have a horse and it is gaining weight, getting a cresty neck, and has developed a crease down its back, then you have an increased risk of laminitis," he warns.
An overweight horse should be removed from the pasture or given a grazing muzzle, to limit the amount of grass being eaten, Shafer says. Grazing muzzles look like feed bags, but have small holes that allow only so much grass to get through during grazing. In addition to too much grass, inappropriate feeding of grain also puts the horse at risk of developing laminitis. Finding healthy feed is crucial. "Today, there is better nutrition technology. There are so many choices of grains and feeds with less carbohydrates," he says.
Shafer recommends creating a "custom-tailored feeding program for your animals" based on their individual nutritional needs. Some horses might need less grain or less grass. Less active horses, struggling with weight gain might need a low-starch diet. "Sometimes, when we lump different ages and types of horses together, some horses become very heavy," he notes. Sometimes laminitis is the result of an accidental feeding frenzy. "Someone forgets to lock the door and the horse knocks the lid off the grain bin and they sit there and eat all night. They'll just keep eating," Shafer says. "That is a grain overload and that often will result in laminitis."
That accidental overload should be considered an emergency and the vet needs to be consulted immediately, Shafer says. "Bacteria overgrow in their intestines. (The bacteria) grow so fast that they die off and release toxins and severely damage blood vessels in lamina of the feet," he says. In some cases, the horse's condition deteriorates so quickly that euthanasia is the only option. Laminitis can affect both front and hind feet, but is more common in the front. "Most people notice lameness or limping first," Shafer says. The horse's stance may look similar to when a horse's hooves have been trimmed too short. "We call it walking on eggshells," the vet says.
If a horse owner detects any signs of lameness in the horse, a vet should be called to determine the course of treatment. "We often make an x-ray of the foot and see what damage has been done," he says. Depending upon the severity, restoring the animal's hoof to a healthy condition is "a long arduous process and can be expensive," Shafer says. Some horses improve in 30 to 60 days but it is not uncommon for severe cases to result in 6-12 months of convalescence. "It's a really heartbreaking condition," Shafer says. "Again, it's better to prevent it." ★
T.L. Dew is a Tennessee writer.