PICKLING AND CANNING
Think beyond cucumbers when you pickle your garden harvest
By Erin McIntyre
Photography from iStockPhoto.com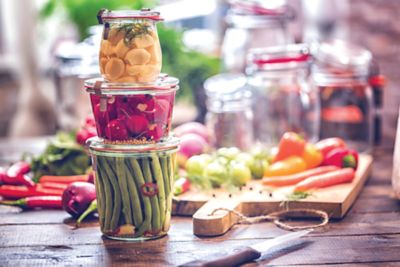 When you think of pickling your garden harvest, your first thought may be of filling your canning jars with cucumbers to make crunchy sweet or sour pickles. But pickling is a method that can be used with a wide variety of vegetables and fruits to preserve them at their peak. Almost anything can be pickled, and whether you enjoy these canned delicacies sweet or sour, crunchy or spicy, there's a pickle recipe for everyone and everything. And the process is relatively simple, using the fresh-pack method, where you place the clean, trimmed vegetables in canning jars, cover them with a brine prepared with a specific ratio of vinegar, salt, and spices, and then process them in the water-bath canner using the directions for your particular altitude.
No matter what you're pickling, be sure to keep food safety in mind and use an approved recipe for your altitude with recommendations from the National Center for Home Food Preservation, online at nchfp.uga.edu. The amount of acid in the recipe, which is calculated for each individual vegetable or fruit, is important for preventing botulism poisoning, so never tinker with the ratio of vinegar to water, because it can have dangerous results. If you're not sure where to begin, the NCHFP and the Ball Blue Book are good resources. Maybe you have a family recipe for cucumber pickles, but don't stop there. Consider these options:
GARLIC
If you're the kind of person who fights others for the clove of garlic at the bottom of the pickle jar, you're in luck. You can make a whole jarful of these gold nuggets. Note that minerals in garlic sometimes cause the cloves to take on a bluish tinge when pickled. Don't worry, that's normal.
CARROTS
Pickled carrots are crunchy and satisfying. If you like spicy pickles, the natural sweetness of carrots provides a tasty palette for a bit of zing.
GREEN BEANS
Sometimes called dilly beans, pickled green beans are the perfect addition to a bloody Mary, a turkey sandwich, or they can be eaten straight from the jar. Flavor them traditionally — check out the Ball Blue Book's dilly beans recipe — or you can go with something more daring, with smoked paprika.
CAULIFLOWER
Whether it's incorporated into a relish — think of your grandmother's chow-chow — or pickled by itself, cauliflower provides a neutral slate for a variety of flavors. Look for a recipe that includes beets if you want to make pink pickled cauliflower or one with turmeric for a bright yellow treats.
BEETS
Pickled beets are the jeweled queens of the pickle world. Their ruby-red hue is unmistakable. If you decide to pickle beets, wear food-safe gloves and an apron to prevent stains. Rosemary makes a nice flavor addition to beets.
BRUSSELS SPROUTS
These green orbs are the perfect canvas for pickling. They stand up well to the canning process and retain their texture.
ZUCCHINI
Zucchini pickles are a great way to use up the sudden burst of ripe zucchini everyone seems to get mid-summer. They're a perfect slate for bread and butter pickles. Just be sure to use fresh, firm zucchini and try to catch them before they get too large. If that's the case consider making chutney or relish instead.
WATERMELON RINDS
Watermelon rind pickles herald back to the days of the Great Depression when folks used every last smidgen of food. Be sure to use a peeler to trim off every bit of the green rind before following the recipe and enjoy the nostalgia of cracking open a jar and tasting a bit of history.
JERUSALEM ARTICHOKES
The crunchy roots of these sunflowers, also called sunchokes, make amazing pickles. Just be sure to scrub every bit of dirt from the knobby roots before following the recipe.
OKRA
Maybe you think you despise okra — its gooey texture can be downright unappealing. However, some okra haters find they actually love the vegetable pickled, as Southern canners have done for years. Make sure to choose small, tender pods and don't pierce them when you pack the jars, to avoid the goo.
SAFETY FIRST
No matter what you're pickling, be sure to keep food safety in mind and use an approved recipe for your altitude with recommendations from the National Center for Home Food Preservation, online at nchfp.uga.edu. ★
Erin McIntyre, a Western Colorado writer, grows, cans, and pickles her own garden produce.