HEAT STRESS AND CATTLE
Why it's important to avoid it and how to reduce the risks
By Heather Smith Thomas
Photography from iStockPhoto.com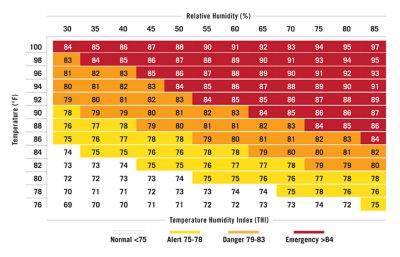 Cattle are hardy animals, but they do have their limits, especially in extremely hot, humid weather, putting them at risk for heat stroke. Cattle have fewer sweat glands than horses or humans, and resort to breathing faster, for more air exchange in the lungs, to cool themselves. You'll see them panting with their mouth open if they are very hot. Respiration indicates whether your cows have an elevated body temperature and may be in danger of heat stress.Below 40 breaths per minute indicates a safe temperature; 80 or higher is a sign of heat stress; 120-160 puts them in danger of death. You can reduce the risk of heat stroke in your cattle this summer by following some simple steps:
COOL WATER AND LOTS OF IT
The most helpful thing you can do to prevent heat stress in sweltering weather is provide shade and plenty of fresh, clean, cool water. Cattle need at least 2 gallons per 100 pounds of body weight daily, and even more if weather is hot and they are losing fluid through sweating and drooling. Water must register lower than 80 degrees F. If a water tank is out in the sun or supplied by an over-ground hose or pipe that sits in the sun, and water gets hot, cattle won't drink it. Therefore, you need to shade not only the animals but also their water. If water is cool, they'll drink which, in turn, will help cool them and keep them hydrated. If there's only one water source and they crowd around trying to drink, or stand near or in it to cool themselves, they reduce any benefits of a breeze. Dominant animals may stand near the water and not allow timid ones to get a drink. Providing several water sources can keep cattle spaced out better.
PROVIDE SHADE
Give your animals a place to escape the sun's harsh rays. Shade trees are protective, especially if there's air flow through the trees. If there's no natural shade, you must create a roof on posts of at least 10 feet high to allow more air movement underneath. A metal roof should be insulated; otherwise, radiant heating will make it hotter underneath, like an oven. On a sunny day, black cattle tend to get hotter quicker than red or light-colored cattle because the dark color absorbs more heat.
CONTROL BITING FLIES
Help your cattle endure the heat by controlling biting flies. Cattle expend energy and create body heat when they swat their tail, kick at their belly or sling their head around over their back, trying to repel flies. Livestock also tend to bunch up together when they're fighting flies, which results in less air flow around their bodies.
AVOID OVERWORK
Don't work cattle — tagging, vaccinating, dehorning, or weaning — during the heat of the day. Also, don't move them very far when daytime temperatures are at their highest. Instead, manage your animals very early in the morning in cooler temperatures.
REPLACE SALT AND MINERALS
Providing salt is important, especially in in hot weather, to replace what is lost through sweating and saliva production. Salt content of most mineral supplements is generally adequate to keep your animal healthy.
WATCH WEATHER FORECASTS
Keep an eye on weather forecasts and temperature-humidity indexes, because the combination of air temperature and humidity is what affects animals' ability to dissipate body heat. Knowing the index will determine whether your cattle are in the alert, danger, or emergency stage. Even if the temperature is only in the upper 70s, high humidity of 70 percent or above can put them in the alert stage. Once the index places you in the danger or emergency stage, you must do something quickly to save your animals, such as sprinkle them with cool water. Cattle are less at risk for heat stress in an arid climate, especially if it gets cooler at night. Low humidity enables them to lose heat through sweating and evaporation. ★
Heather Smith Thomas is an Idaho cattle rancher and author of several livestock books.