Growin Marjoram
Flavor your meals with this sweet, mild herb
By T.L. Dew
Photography from iStockPhoto.com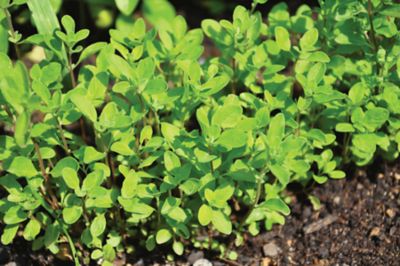 Plant lovers who want to add something different to their gardens or patios this year should consider the benefits of growing marjoram. This lesser-known cousin of oregano is a flowering herb that produces a sweeter, milder flavor than its robust relative. "It's native to North Africa and Asia, and it was naturalized in the Mediterranean area which is typical of many of the herbs we use today," says Sallie Lee, an urban regional extension agent for Auburn and Alabama A&M universities.
Marjoram, known as the "joy of the mountain" in ancient Greece, was considered a symbol of happiness and marital bliss, Lee says. Its antioxidant and anti-fungal qualities encouraged early gardeners to use it for medicinal, rather than culinary, purposes. "Most of this is not scientifically proven, but it has been used in some cultures for indigestion, tooth aches, a little bit of everything," Lee says. Some marjoram enthusiasts have recommended soaking in it by adding marjoram tea to bath water to ease aches and pains. "It was originally used to cure rheumatism," Lee says.
Today, sweet marjoram, also known as knot marjoram, is primarily used as a cooking spice in a variety of dishes including salads, beans, meats, soups, and stews. The herb has an aroma that is typical of the mint family but the herb does not overwhelm food. "It's a little less intense than oregano," Lee says. Its flavor pairs well with garlic, onion, thyme, and basil. Marjoram is popular with cooks, but it's not found in many herb gardens because it can be challenging to grow, Lee says.Marjoram cannot withstand extreme temperatures — hot or cold — so it is treated as an annual plant even though, technically, it is a tender perennial.
The herb can be grown in the ground or in a pot. If it's grown in a container, it can be taken inside during the winter months. Because of its shallow, dense root system, marjoram does not have to be grown in a deep container, but it does need fluffy, well-drained soil to thrive. And the soil must be slightly acidic, which means the pH must be under 7. "I would purchase some really good potting soil, not garden soil," Lee says. "If you have really alkaline soil, this is not going to be happy." Whether in the ground or in a pot, marjoram requires little water but a lot of sun.
If you decide to sow seeds in the ground, Lee suggests covering the seeds with a very light cover of wheat straw. "That will do a couple of things," Lee says. "If it rains these seeds are so tiny the rain will push it so far into the soil they may not germinate. The wheat straw also will help keep critters and birds off it." Marjoram can be harvested twice a year. It's best to pick it before the flowers open. Discard the stems and keep the leaves. Fresh leaves can be used immediately or the plants can be dried, sealed in an air-tight container, and used later. "One of the things about marjoram that differs from other herbs, it retains most of its flavor when dried," she says. If you are a novice when it comes to cooking with marjoram, Lee suggests to try it first by sprinkling some in a salad or soups and stews. ★
T.L. Dew is a Tennessee gardener and writer.