WET A HOOK
Farm ponds provide tasty catches and happy memories
By Ed Harp
Photography from iStockPhoto.com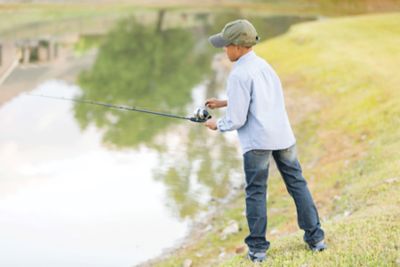 Just a fishing pole, bait, tackle, and a farm pond — that's all you need to catch a good meal and make some enduring family memories. Some ponds are well maintained, others long neglected. Some are large, others a quarter-acre or less. They all hold the potential for an afternoon of fun and fishing. Nearly all of them, regardless of where they're located or their condition, are home to bluegill, largemouth bass, and channel catfish. All three species can be harvested with simple, inexpensive tackle by inexperienced anglers, young and old alike.
Bluegill can be caught using inexpensive tackle. All you'll need is a small hook, a bobber, and a worm. Pinch off a small part of the worm — an inch is plenty — impale it on the hook, and toss the whole rig out near any wood that's visible, or along the edge of the thickest vegetation that's there. You'll have one on in no time. Bluegill are voracious eaters and they fight like the devil. Most experienced anglers will tell you that, ounce for ounce, they'll outfight any of the better-known sport fish.
Largemouth bass can be a little tougher to trick but are well worth the effort. Even tiny ponds typically hold bass up to five pounds and they can be caught on just about anything. Worms and nightcrawlers, as well as a variety of artificial baits, are the most popular. Topwater plugs and plastic lures are especially effective. You'll need heavier tackle for largemouth bass, though. An open-face spinning outfit, medium action, should do the trick. Their bite can be off and on, so if you don't catch one, try again another day.
Bass are a ball to catch and they make for wonderful photos, especially if you hold them away from your body
and toward the camera when you take the picture. (It'll make the fish look bigger.) Tip: Fish on top of or under any vegetation mats that are on the pond when the sun is shining. They like the shade and cooler water. Channel catfish are the biggest of the bunch and grow up to 10 or 12 pounds in most ponds. Nightcrawlers and worms are typically used as bait.
Catfish are bottom feeders so use a big sinker, a stout hook, and a fairly stiff rod. They're catfish, but they're not scavengers. Fish for them with live bait. Regardless of which species you target, however, be careful about using live minnows for bait. Some species of minnows will take over your pond in no time and destroy it as a fishery. Another consideration to keep in mind is that many of our ponds are rich in nutrients. Fertilizer and animal waste runoff is often great for fish and their prey, but it's not always so great for humans. If you have any doubts about the quality of your water, have it tested before you eat anything that comes from it.
Spend a few afternoons with the family by that pond of yours. The memories they create will last long past your lifetime. You can't ask for much more than that. ★
Ed Harp is an Ohio-based outdoors writer.