FROM THRIVING TO STRIVING
Once the world's largest feral sheep population, the Santa Cruz struggles to resist extinction
By Jeannette Beranger
Photo courtesy of Jeannette Beranger and Our Little Flower Farm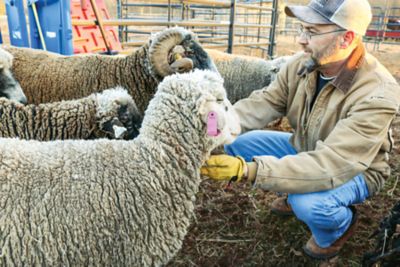 The island of Santa Cruz, off the Southern California coast, was a haven for sheep ranchers in the 19th and 20th centuries because no large carnivores prowled the island. Over the decades, many sheep became part of a feral population whose isolation developed into adaptive characteristics that enabled the animals to thrive with little input from man. Their wool developed a high lanolin content that easily shed the local rain and fog condensation. The wool fibers themselves came to have a fine crimpy texture that more effectively insulated the animals against the heat and the cold than other domestic sheep. Some even developed the ability to shed their wool so annual shearing was unnecessary.
A 1989 study estimated 21,000 on the island, making it the largest feral population of sheep in the world at the time, but that was about to change. As the Channel Islands, which includes Santa Cruz, became part of a national park, their unique biological diversity needed protection, so all feral livestock was removed. The Livestock Conservancy — then known as the American Minor Breeds Conservancy — believed the sheep to be a unique genetic resource for the species and worked toward securing some of the genetics into a conservation breeding program on the mainland.
Today, there are no sheep left on the island but there are about 200 on U.S. farms. This places the breed as "critically endangered" on the conservancy's Conservation Priority List. The Conservancy uses this list to bring attention to livestock, such as the Santa Cruz, to connect them with people interested in saving a rare breed, such as Mike and Lynn Kearney of "Our Little Flower Farm" in Lewisberry, Pa. The Kearneys' goal was to raise animals naturally and humanely and the idea of working with heritage breeds fit in perfectly with their long-term farm plans and they began with Belted Galloway cattle.
When the Kearneys were ready to add heritage sheep to the farm, Alison Martin, The Livestock Conservancy's executive director, told them that the Santa Cruz would be a good fit because it could tolerate Pennsylvania's cold winters. "I was immediately attracted to the story of these sheep and because they are critically endangered and our efforts could really make a difference for them," Mike says. The Kearneys have since added more Santa Cruz sheep to their flock to diversify bloodlines. As the breed's studbook keeper, Alison conducted an in-depth analysis of each flock's genetics and came up with a detailed breed plan for their future. For Mike, that means managing five breeding groups this year.
It's been a challenge, Mike says, but he recognizes that this secures the flock's diversity for years to come. ★
Jeannette Beranger is The Livestock Conservancy's Research & Technical Programs Manager.
DIG DEEPER
Find out more about Santa Cruz sheep by visiting LivestockConservancy.org.