CANINE CAMPGROUND
North Carolina resort has gone to the dogs
By Jodi Helmer
Photography courtesy of 4 Paws Kingdom Campground Dog Retreat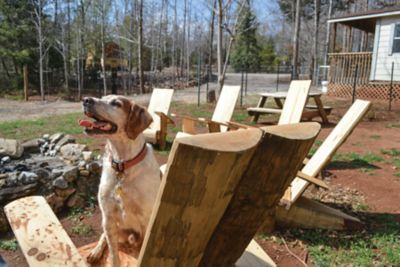 When Connie Kendrick and Sandy Abbey, recently retired from demanding corporate jobs, heard about a dog-friendly campground on the market, they knew it was the perfect fit for life after retirement. "It was adults and dogs and camping — a trifecta," says Connie. 4 Paws Kingdom Campground & Dog Retreat operated for 12 seasons before Connie and Sandy purchased it in 2016. The adults-only mountain retreat offers 40 RV sites with full hookups, three RVs available for rent, three cabins, two yurts, and one tiny house. All of the accommodations have fenced-in yards.
The property has four off-leash dog parks, an agility course, and two ponds. Dogs that need a bath and a blowout after a rollicking good time can retreat to the onsite bathhouse and grooming station. "People who travel with their dogs are tired of not having a fun place to stay and play," Connie says. "They can come here, hang out with their four-legged best friends, and enjoy life." Some guests bring a single dog while others show up with big fur families. One couple spent Halloween weekend with their pack of seven Greyhounds dressed up as the seven dwarfs.
Canine campers range from rescues with unknown pasts to pedigreed show dogs. Connie remembers a pack of purebred Tervuren dogs and their litter of puppies. After participating in dog shows all weekend, the pet parents took the dogs into one of the off-leash parks to unwind. "We all laid on the ground with the dogs and the puppies ran all over us," says Connie. "It was amazing." Interacting with the dogs is an excellent reward for the hard work and long hours that Connie and Sandy put in as campground owners.
Thanks to a calendar packed with special events such as costume parties, scavenger hunts, food truck rallies, and dog training — all designed with dogs in mind — they never go long without sloppy kisses, tail wags, and belly rubs as a show of appreciation for the dog-friendly amenities and experiences. With so much to do, it doesn't take long for the dogs to get to know each other. Regardless of breed, size, or age, the dogs run, chase, wrestle, and fetch in the off-leash parks or paddle around the ponds. Because 4 Paws Kingdom doesn't have breed restrictions, all dogs are welcome. Dogs that need a little time to warm up can romp in a private dog park. Owners flip a sign to "occupied" and the park is reserved for solo playtime. "When we say we're dog-centric, we mean it," Connie explains. "We like to say that we cater to dogs and we allow their humans, too."
INSPIRING GOODWILL
To keep the peace, all campers are required to follow a few rules: Dogs cannot be outside without their owners and must be leashed outside of off-leash areas; proof of up-to-date vaccinations is required; owners must pick up after their pets; and no nuisance barking or aggressive behavior is permitted. Although there can be more than 100 dogs on the property, there has never been an incident of aggression between the dogs.
To Connie's great surprise, the park is silent after dark. "We have quiet time from 11 p.m. to 7 a.m. and when we walk around, you can't hear a thing because the dogs are so worn out that they're all sound asleep," says Connie. Their owners enjoy 4 Paws Kingdom as much as their four-legged companions. It's common to see strangers chatting in the dog parks, eating together in the covered picnic pavilion, or gathered around the fire pit after dark. Dogs and camping, Connie believes, could be the keys to world peace. "Good things happen," she says, "when you bring camping and dogs together." ★
Jodi Helmer is a North Carolina writer.