COUNTY FAIR TRADITION
For 5 generations, the extended Williams family has participated in local livestock fairs
By Carol Davis
Photography by Mark Mosrie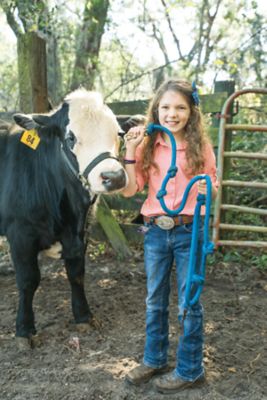 When Ada Perryman, 9, led her steer, a Hereford-Brangus cross named Copper, around the show ring earlier this year, she took her place in a family tradition that reaches back four generations. Since the 19th century, Ada's family has raised crops and livestock in central Florida. And a centerpiece to their farming lifestyle has been the county fair — that magical place where the aromas of popcorn and funnel cakes customarily mingle with the natural, earthy smells emanating from the livestock barn.
The county fair, an enduring agricultural custom, began in the United States in September 1811 in Pittsfield, Mass. The event, known as simply a Cattle Show was a competition, with prize money awarded for the best cattle, oxen, sheep, and swine. At the dawn of the 20th century, nearly every state had one or more anxiously anticipated agricultural fair that marked the culmination of the growing season. "To us," says Pam Williams, Ada's aunt, "it's better than Christmas.
HISTORIC HERD
The family's cattle connection reaches back to Archie Jackson, a landowner and cattleman in central Florida. Archie initially raised Florida Cracker cattle, a now-rare breed descended from Spanish cattle brought to the New World beginning in the early 1500s. But Archie was a bit of a visionary who, in search of better bloodlines to improve his herd, traveled across the country in 1904 to Wyoming's burgeoning cattle ranges. The proud owner returned home with Florida's first purebred horned Hereford stock — an incredible feat that was no easy task as he moved 17 bred heifers and a bull, transporting them from Wyoming by narrow-gauge railroad.
Archie would show Florida's newest cattle breed in local livestock fairs, says Pam, the family's unofficial historian. Archie would further strengthen his herd by adding Texas cattle, which he and his children showed. Archie ranched until he died in 1951 and the farm was turned over to his daughter and son-in-law, Leone and Robert Williams — Ada's great-grandparents. Leone and Robert's son, Jack, farmed with his father, and took his turn in the show ring, once showing a steer that won Reserve Grand Champion.
Judges in those days were looking for different characteristics than they do now, Jack notes. "Back then, the fatter the better," he recalls. But standards now include characteristics that best represent the breed, such as a wide chest, a large volume of muscle, and a moderate frame size with weight ranging between 1,100 and 1,300 pounds.
INTO THE RING
Jack and his wife, Ginny, also farmed the family land and would eventually have three daughters — Laurie, Pam, and Amy, Ada's mother. 4-H and local fairs were always part of the Williams sisters' activities and they competed in baking, canning, cake decorating, arts and crafts, dog agility, poultry, and more. But they wanted to show steers. "Our interest in showing at the fair came from doing what Daddy did," Pam says. But Jack wasn't keen about his daughters working with an animal that weighed more than half a ton. As a teenager, he witnessed the bone-crushing strength of a steer when one of his own animals broke his father's leg.
"He remembered what his dad's experience was like and didn't want his girls to get hurt," Laurie Berry says. "We had to beg him," Amy says, "and he really didn't want me to show because I was so much younger and smaller than my sisters." His daughters' pleading, along with encouragement from a beloved aunt who allowed her children to show livestock finally convinced Jack to let his girls participate and, at age 15, Laurie joined in the family tradition, eventually followed by Pam at 13 and Amy at 8. Amy was about Ada's age when she showed her first steer — the memory indelibly etched in the mind of her sister, Laurie.
"When Amy was getting ready to sell her first steer, I was fixing his tail and getting the sawdust off him and he got aggravated," Laurie recalls. "He body-slammed Amy in the chest and shoulder and bruised her so much that she could barely raise her arm." But despite the pain, Amy rebuffed any suggestion to let someone else lead her steer into the auction ring. "She was sobbing and said, 'I raised him myself, I showed him myself, and I'll sell him myself.' She had to support her bruised arm with the other one and she was crying all the way around the ring," Laurie says. But as the bidding reached $2 a pound, Amy began to feel better. And when it topped out at more than $3 a pound, "I didn't hurt anywhere," she says with a smile. "He was a 1,200-pounder."
Indeed, over the next five years, her steers sold for top dollar and by the time she was 13, Amy had saved enough to pay for all four years of her college education. Now, Amy's daughters, Ashtyn, 15, Abree, 12, and Ada, and Laurie's daughter, Mary Beth Lewis, 14, are stirring up the dust in the show ring, as well.
GROWING SKILLS
4-H, FFA, and the show ring helped Amy develop self-confidence and leadership qualities that have sustained her throughout her life. And now, as a mother, she's watching her own children flourish from their livestock experience. "Ashtyn was very shy, very timid, and scared of many things, and I knew 4-H and FFA was what she needed," she says of the daughter who now competes in speech contests. Amy and her husband also have seen Abree develop mechanical and life skills and they're looking forward to how 4-H benefits Ada.
"As a parent, it's thrilling to see your kids out there enjoying what you do," she says. Jack loves seeing his grandchildren embrace his family's legacy, as well. "He's so proud to see them carrying on his tradition," she says. "My girls show at the same fair that Archie did," Amy says. "We have five generations showing in the same facility. How many can say that?" ★
Out Here editor Carol Davis raised a 4-H steer as a youngster.