COOPS FOR TROOPS
Therapy chickens help the Caiafa family manage individual challenges
By John Commins
Photography by Mark Mosrie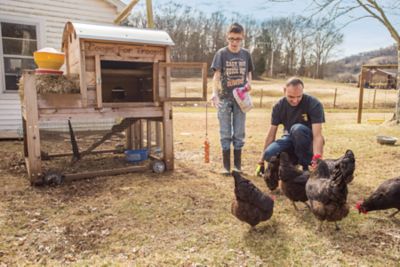 Reba is the only one of Paul Caiafa's 10 laying hens who'll let him pick her up. The other chickens follow him around the barnyard, clucking and pecking at his heels, but scatter like mercury when he turns and reaches for them. Reba bonded with Paul last spring after a brush with mortality that occurred shortly after the Black Star hens arrived at the Caiafa's Lewisburg, Tenn., home, says Paul's wife Sarah. It seems that the Caiafas' dog, Ramsey, saw Reba and the flock as delightful new play toys. Ramsey put Reba in his mouth. Reba made her objections known. Paul intervened, removed Reba from Ramsey's jaws, smoothed her feathers, and a bond was formed.
"She realized that he was there to help her," Sarah says. Now, the rest of the flock follows Paul, clucking contentedly, just out of reach. "I can sit on my deck and watch them do funny things." Paul says. "They'll make you laugh and brighten your day if you're down a little bit." For a while, laughter was hard to come by for Paul, who struggled in his return to civilian life after a four-year hitch in the U.S. Army. He enlisted in 2010 at age 32, and found himself in boot camp with fellow recruits a dozen years younger. Paul loves his country, and he was proud to serve, but his primary motive for enlisting was to secure health insurance for Sarah and their two boys, Nathan and Blake. The boys are autistic, and other medical issues proved too expensive to tackle without health insurance.
A few months after basic training, he found himself in Djibouti, on the Horn of Africa, as a generator mechanic attached to a Ranger battalion engaged against al-Shabaab terrorists. The stress of being away from his family, coupled with the harsh climate and the potential for danger left Paul anxious and restless when he was discharged from the service in 2016. He's still feeling the effects. "I'm getting help through the (Veterans Administration), talking to doctors and psychiatrists so I can work through some stuff," Paul says. Nathan came up with the idea of raising therapy chickens after watching an episode of the online reality show, "Coops For Troops." "Nathan and I don't get to spend a lot of time together, because we don't have a lot in common," Paul says. "He really wanted something for us to have together."
HELPFUL COMPANIONS
Brad Hauter, creator of Coops For Troops, says the show started as a segment of "Coop Dreams," a reality television show he produces about raising chickens and micro-farming. "We did a little bit of research and found that chickens are a great companion animal. They are great for reducing loneliness, depression, and post-traumatic stress syndrome. And when you hear PTSD, you immediately think of the military," Hauter says. "We started thinking about ways we could help the families and individuals who have served and sacrificed for this country. The Caiafas are a great example because chickens have been shown to be a great therapeutic animal for autistic children," Hauter says. The free-range hens are earning their keep with their tasty fresh eggs, which the Caiafas sell to their eager friends and coworkers.
"Everyone loves the eggs," Paul says. "Sarah sells them at work." And so, the Caiafas are planning to expand their flock to include 24 birds. The additional chickens means the farm will produce at least a couple dozen eggs a day, Sarah says. "We'll see how we deal with that," she says. "That's a lot more hens to care for and feed." "And that's a lot more poop to shovel," Paul says, but he doesn't mind. "I like having them around," he says. "It keeps the farm going." ★
John Commins is a Florida writer.