POULTRY PARASITES
Immunity and limiting exposure are key to a healthy flock
By Noble Sprayberry
Photography from iStockPhoto.com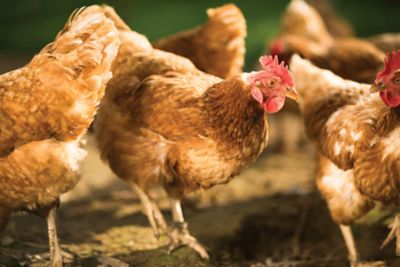 Discovering telltale signs of a parasite infection in your backyard chickens can spark a scramble for an eradication plan. But that may not be the best solution, says Dr. Gary Butcher, a University of Florida veterinarian and professor of poultry disease. "With parasites in poultry, whether a small flock or a commercial operation, our goal is not to eliminate them," he says. "That's not possible. People are going to have to learn to live with, and to manage, parasites in poultry." Make no mistake, risk exists if an infestation grows quickly or if birds lacking sufficient immunity are exposed to parasites. Diminished egg production, weight loss, or even significant die-off can happen, Butcher says.
"It can occur in a week's time, from when you start noticing any problems to when they start to die," he says. But efforts to eradicate parasites can leave flocks more at risk, limiting natural immunities created by exposure to low levels of parasites. And as long as birds live in proximity to manure, where parasites can survive, the problem will remain, Butcher says. Parasites fall into two broad categories. Common internal parasites include roundworms, tapeworms, cecal worms, and capillaria. External parasites include northern foul mites, sticktight fleas, and lice. "Those are the most common that I get called about," Butcher says. "And there are others, but these are common throughout the U.S."
To manage the presence of internal parasites, keeping birds on clean ground is the priority. Parasites drop eggs into the litter, and keeping litter dry and fresh hinders growth of the organisms, Butcher says. One strategy is to give the birds a larger area in which to roam, which means the chickens will not walk on their manure, Butcher says. "That sounds like a peaches and cream thing to do; it sounds nice and wholesome," he says. "Then, you lose the birds to others problems, like birds of prey." Butcher raises his birds in wire-floored enclosures where they have access to perches. Chicken manure drops through the wire and to the ground, which the birds do not contact.
Mixing birds with natural immunity to parasites with those that don't may be a mistake that some backyard chicken farmers make. For example, someone who has a backyard flock raised on the ground that shows no signs of parasite problems may buy new birds from a farm that raises them in off-the-ground cages with limited exposure to parasites — and, consequently, little resistance to them. "A week or two later, the new birds are dying, while the existing birds are fine, "Butcher says. "The ones raised in cages have had little prior exposure, but all of a sudden they're exposed to a larger number parasites. Since they have no resistance, they get infected." So, rather than eradicating parasites, the goal must be, Butcher says, to create conditions to limit the parasite population, while also allowing chickens to build natural immunities. ★
Noble Sprayberry is a Georgia writer.