WHAT BEES NEED
Keep your hives in a way that will help them thrive
By Casey Kelly-Barton
Photography by Mark Mosrie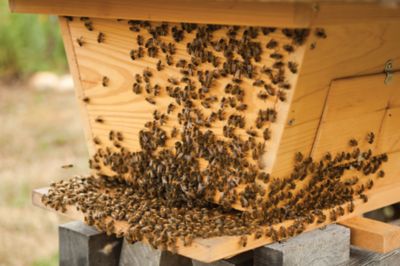 If you're thinking of keeping honeybees, create the kind of environment that will help them survive and thrive. First and foremost, a new hobby beekeeper must have the right mindset, says Gunther Hauk, author of Toward Saving the Honeybee and founder of Spikenard Farm Bee Sanctuary in Floyd, Va. Ask yourself, "How can I help the bees?" rather than, "How many pounds of honey will I get?" Hauk advises. In fact, new backyard beekeepers should expect to harvest no honey the first year, because the bees need it to establish successful colonies, he notes.
Hauk recommends reading as much as you can about beekeeping and taking a class, if possible, to understand the basics of bee behavior, life cycles, and proper handling. Spikenard Farm holds regular classes and workshops for beekeepers who want hands-on training.
THE RIGHT SITE
Because cold air makes bees sluggish, position your hives on a higher elevation, and make sure the hive entrances face the south or southeast, not the north, Hauk says. In hot climates, bees need sun protection during the heat of the day, either from a shade tree or a properly anchored plywood canopy. You can happily coexist with bees even if you have a small yard or balcony, Hauk says. "If you need to place your hives close to your house, you can make a windbreak, like a stand of bamboo about 5 feet tall, to get the bees to fly up when they leave the hive," he says.
FOOD AND WATER
Bees explore a few miles from their hive for pollen and nectar, and urban bees often have better forage options than country bees, thanks to dense landscaping, he says. You need to offer supplemental food only if the bees don't build a good reserve of honey, their ideal food. If they do need extra food, honey, a 9:1 solution of sugar and honey, or commercially prepared bee tea with herbs can help the hive survive. For water, nearby lakes and streams are ideal, but you can also provide a water source on your property. If you do, check it once or twice a day and keep it filled, because the bees will come to depend on it.
HIVES FOR BEGINNERS
For beginners, Hauk recommends the top bar style of hive that's been used around the world for centuries, because opening these hives requires you to lift only three to four pounds. The popular Langstroth hive used by most commercial beekeepers requires you to lift 50 pounds or more to open it. Whichever style you choose, Hauk recommends starting with two, so if one of your hives loses a queen, the other hive can help.
SAFETY GEAR
You'll need a veil and gloves, but unless you live in an area with Africanized bees you won't need a full bee suit, Hauk says. Suits are important for commercial keepers because they use collection methods that are fast but can irritate bees. For hobbyists, "it's all about the relationship" with your bees, he says, which includes taking care not to disturb them beyond what's necessary for their care. "Your dog can bite you but you don't wear protective gear with your dog, because of the way you treat it," he says.
THE BEST BEES
Breed matters less than the bees' ability to thrive in your local conditions. Whenever possible, get your bees from a local source. "Local bees are better acclimated to your climate and forage," he says. "Your nearest beekeeping club may have someone who's getting ready to split a colony or collect a swarm, or they can give you their recommendations for ordering bees."
With the right information, equipment, and bees that are adapted to your area, you can help reverse bee declines, boost your local ecosystem, and maybe even collect a little honey. ★
Casey Kelly-Barton is a Texas writer.
DIG DEEPER
Gunther Hauk shared Spikenard Farm's recommended reading list on general beekeeping:
Beekeeping: Practical Guide and Hive Management: A Seasonal Guide for Beekeepers by Richard Bonney.
The Buzz about Bees: Biology of a Superorganism by Jürgen Tautz and Helga R. Heilmann.
The Joys of Beekeeping by Richard Taylor.