Horseshoe Artist
By Gayle Smith
Photography by Johnny Sundby
Frank Schwegel was inspired by a whimsical piece of horseshoe art created by his father for a benefit auction. It was a little country band consisting of a guitar player, drummer, and banjo player.
His father routinely built door stops and other small items to give away to friends and neighbors, says Schwegel, of Box Elder, S.D. "I can remember him making little pieces of horseshoe art like cowboys sitting around a fire. Some of his creations were practical, but most of it was art," he says.
As he mirrored his father's craft, Schwegel initially created simple items such as stall door handles and barn latches.
"I started out making practical stuff," he says. "Then my friends would admire my work, and ask me to build stuff for them." Sometime later, he debuted his first display at a small Colorado rodeo.
"It was a local rodeo with a small crowd in attendance, but I still made $1,400 that day," he says. "At that point, I realized I needed to expand and start thinking outside the box."
Since then, using horseshoes, a welder, and his own artistry, Schwegel has created life-size horses, bison, border collies, and a stagecoach.
Some may take 400-500 horseshoes to build and lots of time. Gathering materials for the stagecoach, for example, took 1½ years, but the details made it his most unique piece. "It holds people's attention a long time because there are items hidden in it that take a while for people to notice," he says.
Six tractor seats make up the seats for the driver, the guard, and the passengers. Parts from an old rifle are embedded between the driver and the guard, and an antique saddle and trunk rest on top of the stagecoach.
Schwegel also incorporated nearly 60 horse bits, pitchforks, farrier rasps, dump rake tines, plow disks, some antique buggy steps, and parts from an old sewing machine into the design. "I had to have two of everything I used," he says, "so I could pair it up and make the stagecoach symmetrical."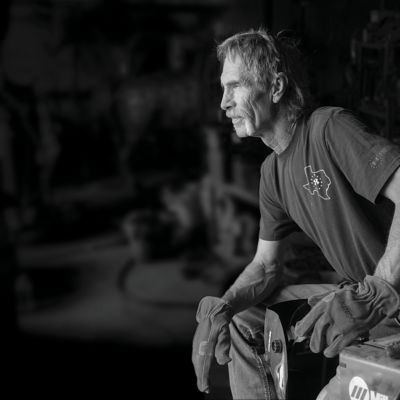 'It All Has To Be Right'
A full-size horse is Schwegel's best-selling item, yet each one remains a challenge for him.
"I always told myself I would not build a full-size horse unless I could get the muscle texture, the head, and the back to really look like a horse," he says. "I don't like building something that looks like a block. I want it to resemble what its supposed to be."
The belly is the biggest challenge. "It is hard to keep them from getting a little on the fat side, and positioning the joints in the legs correctly," he says. "The head is actually the easiest to make, because I've built close to 50 horse heads now."
"The muscle textures, ears and eyes — it all has to be right," he says.
Schwegel arranges some of the horse on a fiberglass model, but it must then be pulled off and reassembled. Each horse takes about a month to build. He was anticipating creating a full-scale buffalo, despite the challenge of making sure the head and shoulders are lifelike.
"It will be a challenge," Schwegel says, "to determine how to make that hair pop out to look realistic and three-dimensional."