Food Safety
By Tracy Marsh
The three greatest threats to a feed room are moisture, pests, and food degradation, says Cherry Hill, equine instructor and author of more than 30 books on horse training and care. But there are ways, she says, to protect your feed room from these threats.
Moisture
From top to bottom, a dry feed room is a must. Not only do moist places attract insects and spoil feed, but they also promote mold growth, which is dangerous to livestock.
"The feed room should be a tight, locked, sealed room," Hill says, "because you can control that environment so much better."
Her ideal feed room is a windowless space with a cement or concrete floor. Windows make it difficult to regulate temperature and humidity; if you have them, they should be tightly sealed. Poured floors keep out burrowing pests and excess moisture.
Consider installing a roof vent with fine mesh screens in any openings to draw moist, hot air up and out while keeping bugs at bay.
Pests
Guarding against rodents and insects is important, both for the comfort of your horses and the quality of the feed you're storing, Hill says. Another reason is what she calls "the human element."
"We're always thinking about our horses," she says, "but there's a lot of stuff out there than can harm people, too." Diseases such as hantavirus and leptospirosis can be transmitted to humans through the saliva, feces, or urine of an infected rodent.
While horses aren't likely to contract disease directly from pests, their presence does compromise feed quality because they eat all the nutritious parts of hay and grain. Cats, mousetraps and poison are all viable options to control rodents, but beware of dangerous combinations; if a cat eats a poisoned mouse, it's bad news for the cat.
Keep fly strips on hand. "Sweet feed especially draws flies like crazy," Hill says. Because it's difficult to keep large haystacks free of mice and other pests, hay should be stored in a separate building, Hill says.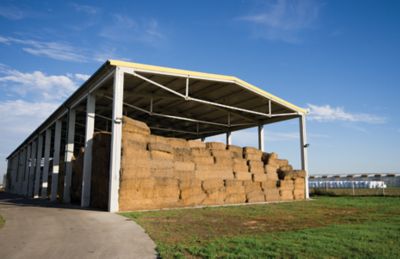 Food Degradation
Treat your feed room like you treat your pantry, Hill says. Cool and dark are the best conditions for keeping food fresh.
Windows let in sunlight, and as the room heats up, so does the feed. And warm, moist feed can develop potentially harmful molds and mycotoxins.
Keep feed bags or bins off the ground by stacking them on wooden pallets. And don't pour bags of feed into your containers until you're ready to use them. "The breathable sacks are actually a better way to store grain than your containers," Hill says.
Ensure your containers are well-maintained. With metal, keep an eye out for rust. And with plastic, be aware that rodents can chew through the bin; if you haven't prevented them from entering your space, metal is the better option.