Invasive Plants
By T.L. Dew
Invasive plants just might be the gangsters of horticulture.
They look for opportunities to get a foothold in the environment and, left unchallenged, can dominate their surroundings. Without a unified community effort, these intruders are difficult to control and nearly impossible to eradicate.
In the United States, invasive plants cause $15 billion in damage each year, says Will Drews, a natural resource specialist with the Knox County Soil and Water Conservation District in Indiana.
Invasive plants are not necessarily weeds; they are non-native or exotic plants that are likely to cause harm to the ecology, economy, or human health. "They are bullies and they take over. And the plants that we want to grow there can't compete with them," Drews says.
Some weeds might be a nuisance to farmers and ranchers, but if they are native to that geographic area, they are not invasive. Insects, wildlife, and other environmental factors keep native plants in check, but invasive plants do not have natural predators to manage them.
"Our biggest concern with most of these plants is they just do too well in our environment and this affects the plant diversity in our forests and even in wetlands, prairies, and rangelands," Drews says. Sometimes, invasive plants are introduced to regions with the best of intentions.
Kudzu — the lush, green vine originally planted in the South to help control erosion — heavily and quickly blankets anything in its path. "It's gone crazy," Drews says. "It topples trees, climbs over everything."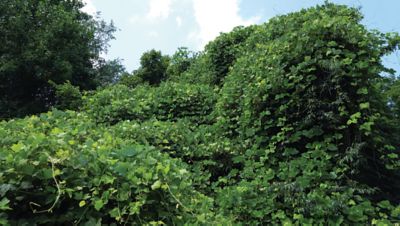 Japanese Stiltgrass has put a stranglehold on woodlands in the Midwest. The dense carpet of grass prevents wildflowers, native grasses, and trees from reseeding.
"If a dense patch of Japanese Stiltgrass gets established we will have trouble with forest regeneration," Drews says. "That will affect logging, timber, and recreational activities. Wildlife may suffer even if invasive plants are introduced for ornamental value.
People once thought Asian Bush Honeysuckle would provide a natural nesting area for birds while supplying plenty of bright red berries for food. But the branches provide little protection from predators. Also, the birds tend to eat too many of the berries, which do not offer the same nutritional benefits as native bushes. "They are gobbling up candy instead of nuts and fruits," Drews says.
Invasive plants pose problems across the country, which must be addressed locally, Drews says. Landowners should ask local agriculture extension offices or soil and water conservation districts to help identify invasive plants and develop a plan to manage or eliminate them, he says.
"A lot of people may not know they have certain invasive species," he says, adding that it's important for neighbors to work together. Controlling invasive species on one piece of property won't help much if surrounding landowners don't do the same. There may not be a single solution.
Herbicides alone may not be the answer because the chemicals could kill other plants, and burning doesn't always destroy the plant or prevent its reseeding. Drews usually recommends a combination of those solutions, along with manual removal, to take back the horticultural neighborhood.