Botanical Chemical-Busters
By T.L. Dew
The next time you walk past your indoor plants, tell them "thank you," because they are doing more than sitting there enjoying the sun and cheering up your house. They are cleaning the air.
Houseplants remove toxins from the air, a 1989 NASA study revealed, and horticulturists say those findings still hold true today.
"Plants take in carbon dioxide, but along with that they are just pulling in ambient air all the time," says Dr. Karen Panter, an extension horticulture specialist with the University of Wyoming.
The air we breathe in our homes and offices contains elements of chemicals being emitted from everyday items all around us, including flooring, plastics, drywall, and paint.
Houseplants absorb these unhealthy chemicals and hang on to them.
"They do have the ability to hold onto things like ammonia, formaldehyde, benezene, and chemicals that are commonly found in everyday products," Panter says.
Chemicals in the air can create problems for people with respiratory issues, often irritating the eyes, nose, mouth, throat, and lungs. "It can irritate everything," she says, "depending upon how much you are exposed to." Plants can help filter these dangerous household pollutants.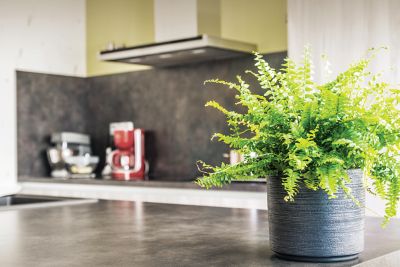 Research has shown some of the best plants to grow inside for air purification are palms, English ivy, ferns, dracaena, peace lilies, and chrysanthemums, Panter says. There are multiple varieties and they are all beneficial, she says. Other plants such as philodendrons, rubber plants, and spider plants have proven somewhat effective, as well.
There are no hard-and-fast rules on how many plants you need to place around the house, Panter says; it's just a matter of how many you can manage. And, the plants should improve air quality as long as they are healthy. Over time, plant lovers might notice an improvement in their home, she says.
"What they may see is a gradual reduction of the symptoms," Panter says. "It's not going to happen overnight. It's a process."