Making Art From Wool
By Susan M. Taylor
Photography by Michael Hickey
While most fiber artists generally create sweaters, scarves, hats, and other wearables from wool, Isabella Burgo prefers sculpting dinosaurs, horses, lions, elephants, giraffes, and other animals.
Isabella, 18, does needle felting, a process using barbed needles to mat, condense, and interlock wool fibers together to create felt fabric, from which she creates 3D sculptures.
She learned the art of needle felting from her mother at just 8 years old and was immediately hooked. Her wool supply is convenient; her family raises sheep on their hobby farm in Walkerton, Ind.
Isabella gladly takes care of the sheep because she knows that healthy sheep produce quality wool. Isabella's fleeces are strong with no breaks, which is necessary for her art.
Isabella begins a project by rolling up a small amount of felted wool and stabbing it with the barbed needle, using a thick foam cushion as a work surface.
"When you stab the needle into the wool, it can go through the wool and into the cushion instead of into your leg," she says with a laugh.
Wool is a unique fiber with microscopic scales that, when agitated, help it stick together to create a solid fabric. Isabella agitates the wool with the barbed needle to create a basic shape. She then adds wool to begin forming a sculpture.
"I start out with a basic shape, like a horse or dinosaur, and add wool to make the main body," Isabella says.
She uses reference books and pictures to get the correct proportions and dimensions. She also uses pipe cleaners in the body and legs to make the animals more stable.
She'll use thicker, lesser-quality wool for the body of the animal, but she'll finish them with her Cormo sheep's soft, dense fleece.
"I finish them with the finer, higher-quality wool, so there are no loose, flyaway hairs sticking out when the project is completed," she says. The result? Incredibly lifelike animals that look like a miniature version of the real thing.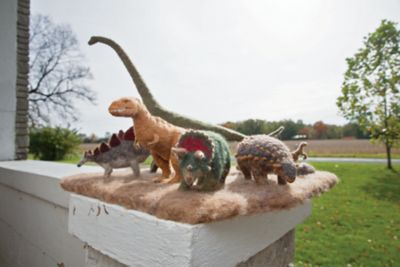 Winning Work
The 4-H fair has played an important part in Isabella's growth as a needle felt artist. In 2016, she made safari animals attached to a felted base. She hand-spun yarn, using her spinning wheel, for the tails of the giraffe and elephant and for the lion's mane.
The 40-hour project won the Grand Champion ribbon.
Because 2017 was to be her last year in 4-H, Isabella undertook a bigger, more daunting needle-felting task.
Inspired by her older brother, Jacob, who is studying to be a paleontologist, she created six dinosaurs, all to scale and with exquisite detail.
"I used slightly different shades of wool for definition and detail. The eyes were really tough, but I was able to blend browns and blacks with a touch of white to make the iris visible on each dinosaur," she notes. "I even made individual toenails and teeth."
This 4-H project took 60 hours and she again took the Grand Champion ribbon at the County 4-H Fair.
Indeed, challenging herself is a large part of why Isabella loves needle felting. She also takes pride in knowing the wool for her craft comes from the very sheep that she raises and nurtures.