Farming With Drones
By John Commins
Photography by Cliff Jette
Twice a year, Kyle Miller zips a drone over his parents' 800-acre farm near Iowa City, Iowa, skimming over the corn and soybeans at 25 mph, collecting data. "The first flight is usually after planting and we are mainly looking for germination of the seeds and plant spacing and getting an overall idea of what variety of seeds have done the best," says Miller, a drone enthusiast, farmer, and software developer with San Francisco-based DroneDeploy.
"Secondly, we fly over the field before sidedress (application of fertilizer between the rows of growing crops) to give a general understanding of where the nitrogen should be," he says.
Miller's drone uses cameras and the collected data is processed onto a high-resolution 3D map. The farmer views that map to decide if corrections must be made. "Applicator issues are typically the easier things to find with a drone," Miller says. "We can fix what is going on with the applicator before we apply the next time, as well as seeing if a planter or a combine is doing a correct job."
Before drones, crop monitoring was done mostly with satellite imaging, which is expensive and imprecise. For the past several years, drones have become cheaper and easier to fly, and the technology around data collection has gotten more sophisticated.
Drones can provide 3D analyses of soil content and nutrients and measure moisture levels on various parts of a field as part of the seed-planting plan. As plants mature, drones can drop pods of nutrients into the soil, and spot fungus and other potential problems.
Like thousands of farmers, Miller recognized the potential for drones in agriculture several years back. But, there were hurdles to clear. For one, fixed-wing drones were expensive, costing anywhere from $10,000 to $30,000, and were difficult to fly.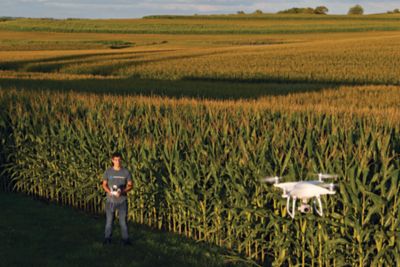 "Three or four years ago it would take one to two days of training to get comfortable flying a drone," he says. "Nowadays, watching some YouTube videos, it would take you less than two hours to sufficiently understand what a drone can do and operate it by yourself."
The industry has moved away from fixed-wing drones in favor of cheaper, more agile quad-copters, which easily hover so the drone pilot doesn't have be on the controls.
"You can buy a really good system for less than $3,000," Miller says. "Autopilots take a lot of the guesswork out of it. There are fewer fly-aways and crashes." Drone technology allows a farmer to indicate the area to be analyzed and then simply hit a check mark. The drone does the rest. </p>
Earning Their Keep
Even with advances in ease of operability, drones must show they're a good value, Miller says. "We have to show more cases of how drones are either saving yield, saving input costs, and making the grower money," he says.
One way is faster analyses of collected data. "We are able to process a field while you are still standing at the edge of it. You don't even need internet connection. You can view that map before you leave the field," Miller says.
A second big area of advancement is sensor technology. "We are going to have better-dedicated cameras specifically for different types of crops, different types of wheats, pests, and disease," Miller says.
Despite advancements, some regulatory hurdles still must be cleared. The Federal Aviation Administration has eased the certification process for commercial drone operators, but restrictions remain for flying beyond line-of-sight, which limits very large farms and ranches.
The FAA also restricts drones and their cargo to 55 pounds, which means they can carry only about six gallons of pesticides or other sprays. "That doesn't work that well on row crops, but with specialty crops in small fields, there is a lot of potential there," Miller says.
Miller sees these bumps as minor turbulence that will not stymie the use of drones in agriculture. Making the case for drones gets easier every day as more farmers come to understand the capabilities, he says. "They understand the technology of what it can do on the farm, but a lot of people aren't sure they're ready to take on that new technology until they see how easy that process is, and that drones can be a big factor in their operations," he says. "They're seeing that it's become very farmer friendly."