The Perfect Food
By Heather Smith Thomas
When a newborn calf struggles to his feet and instinctively latches onto his mother's udder, he's getting more than cow's milk; he's getting a dose of a high-nutrient superfood that will have a profound effect on his future health and well-being.
That perfect first food is the mother's first milk, or colostrum, which comes before true milk. It's vital that the calf gets this nutrient-dense colostrum within the first few hours of its life.
Especially important are the antibodies in colostrum. Calves are born with no immunity to disease and must acquire temporary protection from mama's antibodies via her colostrum. This "passive transfer" usually protects him until his own immune system becomes mature enough to start producing antibodies.
This temporary protection lasts three to six weeks or longer, depending on the antibody levels of the colostrum. A calf that doesn't get colostrum at birth is at risk for disease unless he gets an adequate substitute.
And timing is everything, because if he doesn't nurse soon enough, he doesn't get the protection. The amount of antibodies a calf can absorb into the bloodstream declines rapidly after the first hour.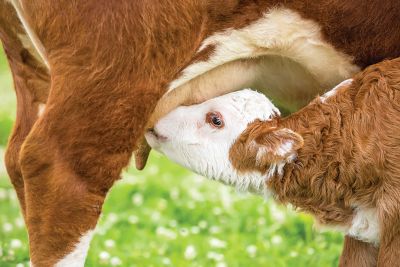 By four hours, he's lost 75 percent of his ability to absorb them.
Colostrum also serves as a laxative and gut stimulant to help pass first bowel movements, and contains a creamy, easily-digested fat that provides high-energy calories for body heat and strength.
Making sure each newborn nurses promptly — especially in cold weather, before he gets cold and quits trying — is the best insurance against scours and other diseases he will soon face.
Sometimes a calf is unable to obtain colostrum without help. If he's weak and can't get up, gets too cold, mama won't let him nurse, or her teats are too large or long for the calf to get onto, you must help.
If he hasn't nursed within two hours, help him get to the udder, restraining the cow if necessary.
If a cow won't let her calf nurse and you don't feel comfortable trying to milk her, or there's some other reason you can't give the calf his mama's colostrum, you need an immediate substitute. A calf can be given substitute colostrum by nipple bottle, stomach tube, or esophageal feeder.
Some stockmen keep frozen colostrum for emergencies by milking a new mama as her calf is nursing for the first time, when antibody levels are at their highest, and freezing the colostrum in snap-top freezer bags.
Commercial colostrum substitutes are not as effective as fresh colostrum, but helpful when you have no other alternative. If you do use a commercial product, make sure it is labeled as colostrum replacer. Other apparent options, such as a colostrum supplement, regular milk, or milk replacer may provide energy and nutrition, but they are, in fact, not options. At all.
The colostrum replacer has the needed antibodies to help your newborn calf grow strong and healthy.