Ranch Tails
By Noble Sprayberry
Photography by Jason Palmer
In the evening, Genie Ellis Sills Zacharias often settles in on the couch to draw the dogs, wisecracking rat, older couple, and others who populate the comic she works to sell to small, weekly newspapers near her home in Clifton, Texas.
Genie, who has a background in fine art, illustrates rural life, with some help from her husband, Zack. He's the humorous one — or so he contends.
"Ranch Tails" takes inspiration from day-to-day happenings, such as stories of family pets or of visits to the physician.
Most readers of the cartoon likely don't realize the backgrounds of the creators. Their journey from Texas and back to the rural life took decades and passed through some of the nation's largest cities.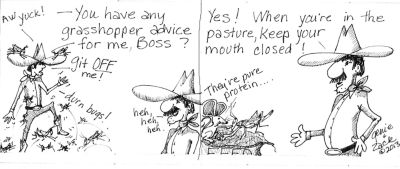 Genie left Texas after high school, eventually earning a doctorate degree in art from New York University. Over the years, she lived in New Orleans and Key Biscayne, Fla.
Zack, a former Texas Highway Patrolman, earned a doctorate degree in education and was an administrator and professor at schools such as Villanova University in Philadelphia and the University of Texas at Dallas.
Genie and Zack, who both returned to Texas a little less than 20 years ago, married in 2006. They now live and work on the nearly 400-acre ranch that has been in her family for generations.
Along the way, Genie learned to chase cows, clear brush, repair fences, blacksmith, and more. But she has also drawn since she was old enough to hold a pencil. For a time, the couple created editorial cartoons and wrote an occasional column for the <em>Clifton Record</em> newspaper.
However, they eventually turned to "Ranch Tails," which is more lighthearted.
"I think it's an opportunity to make a commentary about everyday life," Zack says.
Genie generally creates a couple of comics each week. She offers the work to a newspaper group consisting of about 30 publications, and each week a couple of papers buy and run the cartoon.
The cartoon seeks humor in the commonplace.
"It seems to be universal, because everyone has had a dog or cat that would do something funny," Genie says.
And if they ever want to make a more pointed statement, or just to have a punchline, one common "Ranch Tails" character provides the outlet.
"The rat is really funny, because he always has the last word," Genie says. "He can say things we can't, so he comes in real handy."