Feathered Jewels
Story and photography by Jeannette Beranger
The legendary Sebright bantam is known by many as one of the most beautifully perfected of all chicken breeds. They are outwardly jewels that always make an impression at a poultry show or in the back yard.
They come in a golden and a silver color variety both of which include intricate black lacing on every feather found on the body. Their heads are adorned with vivid red rose combs that produce the crowning effect to the regal appearance of these birds. All of these stunning traits make for a big impression that comes in a very small package.
The Sebright is one of the smallest chicken breeds weighing in around 20-22 ounces — about as big as three pet hamsters.
It was around the year 1800 when Sir John Sebright decided to create a new bantam breed and gave it his family name. He used primarily Polish fowl, "common bantams," to eventually create elaborately laced bantams.
Other bantams played a role in perfecting the breed along, with an unidentified short-tailed rooster that gave the bird its distinctive tail. Sir John envisioned the breed to be a "hen feathered" fowl, meaning the males and females are both colored and patterned the same.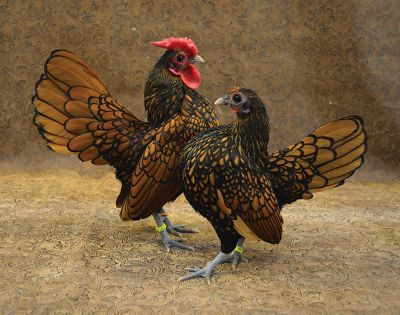 He took it a step further in designing the male birds to also exhibit female type feathering including short hackles, short saddle feathers, and a tail without the long sickle feathers that most roosters carry. This was no small feat to perfect and he did not do it alone. Sir John established a Sebright Bantam Club to make the breed what we know it to be today.
But the Sebright is considered rare and listed as "threatened" on The Livestock Conservancy's Conservation Priority List.
The Conservancy uses this list to bring attention to livestock, such as the Sebright Bantam, to connect them with people interested in saving a rare breed, such as poultry judges Dwayne and Melody Jonas, of Goldthwaite, Texas. The couple has worked with the Sebright for decades and maintains a flock of about 100 birds with both color varieties.
His early days with the breed were a real challenge, Dwayne says; his roosters wouldn't breed unless it was a stifling 100 degrees outside, and the birds were sensitive to Marek's Disease, a highly infectious virus.
But years of careful selection by dedicated breeders, the Sebright is a much hardier bird, capable of breeding year-round. The hens are typically non-broody, so an incubator is a must for hatching good numbers of chicks. Newcomers to the breed should follow three simple rules, he advises: "Make sure you start with sourcing birds from a reliable breeder, build a secure and clean coop free of drafts, and don't skimp on the quality of food."