URBAN FARMING
Ag-focused high school cultivates careers
By Diana West
Photography by Robert Hendricks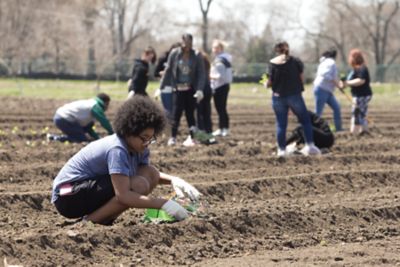 The sprawling metropolis of Chicago is probably the last place one would think of agriculture — unless you're a student at Chicago High School for Agricultural Sciences. This four-year charter school's campus, in the southern part of the city, includes pigs and other livestock, greenhouses, and a 50-acre field where sweet corn, pumpkins, vegetables, fruit trees, oats, and hay are grown and harvested. Recent graduate Maggie Neeson's chosen pathway at the school was horticulture, focusing on landscape architecture and principles of design.
In the greenhouses she learned how to properly grow plants, transplant them, and prepare for the school's flower show and twice-yearly plant sales. And during spring, she helped plant crops. "Attending this high school," Maggie says, "opened my eyes to how important ag is." Not everyone who attends the agriculture school plans to dig in the dirt. "Every student, whether they go into ag or not, benefits from the ag curriculum because it's rigorous and science-based — four years of math, four years of science, and eight courses in agriculture," Principal William Hook says.
Prior graduate Xavier Morgan, for example, took an agricultural finance pathway because he preferred the business development side of agriculture. During his junior and senior years, Xavier developed marketing and business plans. The school provided a career opportunity where Xavier never realized one existed. "I had absolutely no idea what agriculture was all about," before he attended the school, he says. But he quickly learned. Freshmen are required to perform 40 hours of work the following summer in the Supervised Agriculture Experience program where they build fences, pick corn, feed animals, and clean the barn.
The unique charter school, the only one of its kind in the Midwest, opened in 1985, at a time of great concern, according to its website, about the future of agricultural education and the agricultural industry in general. Its purpose was, and is, to prepare urban students, such as Xavier, for professions and careers in agriculture. And, indeed, the school did just that for Xavier. Last year, he graduated from the University of Illinois with a degree in Agriculture Communications with an emphasis in advertising and a minor in food and environmental systems. ★
Diana West is a Joplin, Mo., writer.