'A TRUE LEADER'
4-H dynamo teaches young people to understand and appreciate agriculture's value
By Tracy Marsh
Photography by Michael Woods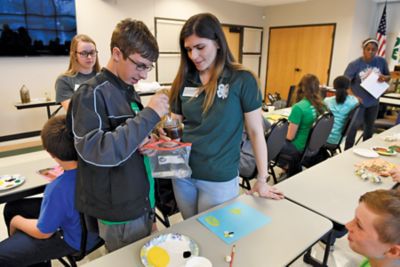 When you talk to Serena Woodard, your ears might deceive you. She speaks about Woodard's Workshops, the agricultural education program she oversees in her Oklahoma community, with the air of a seasoned teacher. Confident and collected, she's eloquent about making a difference in the lives of young people and leaving the world better than she found it.
But don't be fooled. In reality, Serena is a 17-year-old high school junior — she just happens to be an extraordinary one.Serena was in sixth grade when she and her older sister, Megan, founded Woodard's Workshops. The idea came about after the girls noticed that their school's 4-H club had way fewer entries in the Pittsburg County Free Fair than neighboring schools.
The club was near and dear to them; Serena had been involved with 4-H since age 5. So they decided to do something about it. They lobbied their then–4-H leader to let them host after-school activities once a month, as a way to get their classmates more involved. "When we started, it wasn't agriculture-based," Serena says. "The main point was to make crafts kids could enter in the fair. Through that, we got our membership up and our 4-H club back on its feet."
She and Megan taught paper crafts, origami, and painting. When Megan graduated, eighth-grader Serena took
the reins and immediately started making changes. "Megan was the artsy, creative one," Serena says. "I needed to make a switch so it would fit me better." When she joined 4-H, Serena's project area was performing arts; she'd danced ballet for a decade at a local studio. The same year she was taking charge of Woodard's Workshops, her studio closed, and she began searching for something to take its place.
That something came in the form of a goat. Serena, who'd always loved animals, convinced her parents to let her buy one. But when she talked to classmates about raising it, she realized none of them had a clue what she was doing. This was her "aha" moment. "Having students not knowing how important agriculture is — that made me scared that one day they would think we wouldn't need people to go into that industry," she says. So she shifted the focus of both her 4-H career and her workshops to her newfound passion: agriculture. And they flourished.
Her small, monthly art class evolved into a full-fledged agricultural education series for kids aged 3 to 18. With a little help from her close-knit family, Serena developed hands-on curricula on gardening, beekeeping, hydroponics, animal safety, and more. But she still includes a craft at the end of each lesson, so students will have entries for the fair. As word spread about Woodard's Workshops, Greg Owen, Pittsburg County 4-H youth development educator and Serena's mentor, started getting requests from teachers across the state. So he set about helping Serena expand her program, though he says she really doesn't need much help. "Serena is a true leader," Owen says. "She's not one of those kids you have to tell to do something; she's going to do it anyway."
Nowadays, Serena teaches three days a week during summer months at community centers, libraries, 4-H clubs, and camps, and schools all over Oklahoma. To date, Serena has shared the importance and opportunities of agriculture with more than 40,000 students. Woodard's Workshops are so in demand that Serena trained a group of teen leaders and adult volunteers to teach sessions she can't attend herself. And requests keep coming. "My joke with Serena is, 'How busy do you want to be?'" Owen laughs. "She's made it a goal to teach across the entire state. At last count, I think it's 41 of 77 counties she's taught to, which means she's got 36 more she's trying to reach. That's her new motivation." ★
Tracy Marsh is a Nashville, Tenn., writer.