SCOUTING GAME
By Ryan Taylor
Photography by iStockPhoto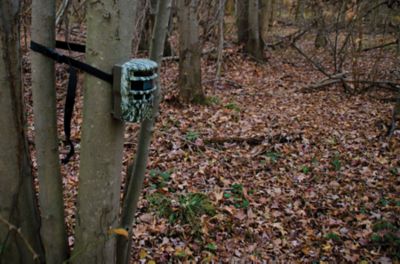 Trail cameras can take much of the guesswork out of scouting when hunting season arrives. But like any other tool, you must use it correctly to get the most benefit. Here are some essential things to consider when using a trail camera:
POSITIONING YOUR CAMERA
Your camera will need to be hung on a sturdy object, such as a tree or fence post about four feet off the ground. Tall weeds or branches should be trimmed to keep the motion sensor from going off repeatedly. Position your camera to get clear photos. In a non-wooded area, face it toward the north or south. If you face it east or west, the glare of the sun's rays will wash out your photos. If your camera is hung in the woods, it can face any direction because the tree canopy will filter out the sun's rays. Once you pick a spot you are confident with, give it time to produce.
WHEN SHOULD I HANG MY TRAIL CAMERAS?
Trail cameras are made for any weather condition. If you like seeing spotted fawns, bucks losing their racks in late winter, or velvet-antlered bucks growing bigger over the summer, then keep it out all year. If you're concerned only with deer season, hang them in early September.
WHICH TRAIL CAMERA IS RIGHT FOR ME?
Trail cameras are like trucks. You can get a basic model that takes pictures and video on an SD memory card or you can spend extra and get one that'll send pictures to your phone. Prices can range from $50 to more than $500, so pick what's right for your budget. Beginners tip: Most of your images will be taken at night, so pick a camera that takes great night photos. Also, keep your receipt and mail in that warranty card.
TOP 5 PLACES TO HANG A CAMERA
Feeding areas. These can include clover patches, around oak trees, on the edge of a crop field, or even in areas where there are fruits and wild berries growing.
Attractants or mineral licks. If your state allows it, using attractants or minerals are always a great way to get deer to pose for a picture. Place these licks in areas that are protected and not out in the open.
Deer trails. While this might be a no-brainer, sometimes trails can be old and unused. Look for fresh deer droppings, tracks, rubs, and scrapes to be sure you have a fresh trail.
Watering areas. Check around the edges of a water source and you'll find tracks. This might be the best way to get a good inventory of deer in your area.
Field edges. Deer often like to travel along field edges and wood lines rather than traveling out in the open. Look for areas where deer cross fences, as well.
CHECKING YOUR CAMERAS
It's always best to "get in and get out" and try to leave on the same path you came in on. You can also use an ATV or vehicle to reduce left-behind human odor. Checking your cameras before a rain can naturally wash away scent. You will be tempted to check your cameras often, but make sure to wait at least two weeks. During summer months, stretching this out to one month may be even better. When checking your cameras, make sure to take extra batteries, SD memory cards, and small bungee straps. ★
Ryan Taylor, of Missouri, is an avid hunter and writer for DeerHuntersClub.com.