SAVING SEEDS
Preserve favorite or heritage varieties from your own garden
By Jodi Torpey
Photography by iStockPhoto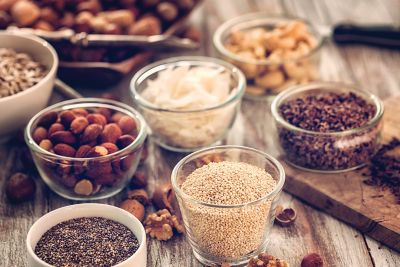 In the 1870s, growers could plant more than 150 types of peas, 80 different turnips, and 100 kinds of lettuces. Most of those, and many other fruits, vegetables, and flowers, are no longer available because their seeds were lost over time. Some varieties were saved from extinction through luck and perseverance. If no one saved the seeds of Collier cucumber, Radiator Charlie's Mortgage Lifter tomato, Aunt Mae's Bib lettuce, or China asters, they'd be gone forever, too. Besides keeping family favorites alive, saving seeds encourages biodiversity for a sustainable future. Seed saving saves money, helps us become more self-reliant, and maintains a supply of important crops. Another seed-saving benefit is that plants become more resilient because they can adapt to a garden's environmental conditions.
Gardeners can experiment with saving any seeds they like; however, the most worthwhile are seeds from open-pollinated varieties. Open-pollinated plants are those produced through natural pollination by insects or wind. These varieties will grow the same plant from saved seed as the parent plant, year after year. Seeds saved from hybrid plants will produce a different result that could be surprising. The fruits, vegetables, and flowers from saved hybrid seeds will most likely revert to one of the parent plants used for the hybrid.
To ensure a pure line of seeds, plants should be isolated to prevent cross pollination of those in the same botanical family, such as squashes and pumpkins. If protecting the seed line isn't essential, gardeners can save and grow these seeds to see what natural crosses may occur. Peppers, cucumbers, beans, lettuce, and peas are some of the easiest garden seeds to save. Select the biggest and best fully ripe fruits and vegetables from disease-free plants.
Remove seeds and dry each by its preferred method. For example, pepper seeds can dry on a kitchen plate; beans and peas can dry in their pods on plants. Lettuce needs to flower before harvesting the seeds. Tomatoes and cucumbers require fermenting to remove the goop around the seeds. Scoop seeds, place in a cup with a teaspoon of water, and cover loosely with plastic wrap. After a few days, skim the scum, rinse seeds, and allow them to dry on wax paper.
The easiest flower seeds to save include asters, marigolds, cosmos, nasturtium, zinnia, gaillardia, and bachelor buttons. Collect faded flowers full of seeds from healthy, open-pollinated plants when petals and leaves turn brown.
Once you've gathered seeds to be saved:
Dry seeds thoroughly and clean chaff before storing
Save in well-labeled coin envelopes, sealed jars, or plastic containers
Store in a cool, dry place away from light. ★
Jodi Torpey is a Colorado garden writer, author, and master gardener who saves way too many seeds every season.