POWER WASHING
The force of a pressure washer makes nearly any task easier
By Noble Sprayberry
Photography by iStockPhoto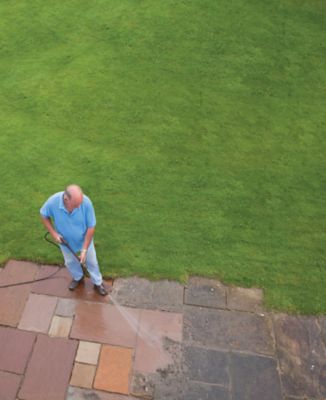 Brian Westmark needed to run conduit beneath a driveway to install new street-side lighting at an upscale Albuquerque, N.M., home. Fortunately, the owner of B&C Painting, Flooring and Handyman Service knew a trick or two, and he reached for his pressure washer. He directed a powerful stream of water down a conduit to slice through the soil beneath the driveway. Then, he drove the conduit into the newly-formed channel. "It's an old construction trick," he says. And the move illustrated one of the many possible uses for a pressure washer, which benefit not only professionals like Westmark but also homeowners.
For example, someone who lives in humid areas might have moss develop on the roof of a home. A carefully directed spray from a pressure washer can easily remove the offending greenery. "But you'll want to go down the roof and not force water up your shingles, or you'll destroy your roof," he says. While pressure washers have a range of uses, it's important to remember they are powerful tools. The shape of the nozzle used on the business end of a pressure washer restricts and directs the spray. One interchangeable nozzle can create a broad, less-powerful fan of water. Another nozzle can shape a tightly-directed stream capable of great force.
Knowing the right nozzle to use, and when to use, is critical, Westmark says. "When you go from fan to just a stream, that's when you could do surface damage to something you're trying to clean," he says. Once someone masters the basics, however, the possibilities are practically endless — cleaning patio furniture for storage, degreasing the grill, cleaning the deck, and clearing out gutters, to name just a few.
In the often-dusty Albuquerque area, a pressure washer is indispensable for quickly cleaning heavy equipment. But the tools are also great for cleaning grease from a garage floor, Westmark says. He first uses a mix of laundry detergent and WD-40, scrubbing it into any grease stains. He then adds a degreaser to the reservoir common on most pressure washers. Finally, he uses the tool to eliminate the grime. And while there are low-strength, electric-powered pressure washers available, Westmark prefers the versatility of a gas-powered machine. "Sometimes, you need to work in a place where electricity isn't available," he says. "And I prefer a good quality, mid-range gas-powered model. It's like a lot of things; you get what you pay for."★
Noble Sprayberry is a Georgia writer.