FURR-EVER HOME
At Mostly Mutts Animal Rescue, 'there is a home for every dog'
By Carol Davis
Photography by Mark Mosrie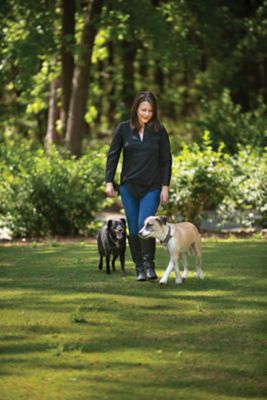 With the precision and focus of a champion, Roxy sails through the air snatching the flying plastic disc before it can hit the grassy field where her owner challenges her astonishing athleticism with another command. In the twinkling of an eye, she's off again, soaring in pursuit of another one. Nothing about this four-legged athlete, now retired after competing in national and world disc championships, would suggest that she once was a homeless stray with nine puppies roaming a Georgia road, all destined for starvation and death. A worried citizen saw the Australian Shepherd mix and called animal control who knew the emaciated dog and her black-and-brown pups had one chance for survival — an animal shelter in Kennesaw called Mostly Mutts, whose simple name belies a complex, intensive program for uniting strays with adoptive families.
This is a shelter that does more than simply administer rabies shots. This is a place that rehabilitates the lost, broken, the sick and prepares them for the joys of being a beloved pet. A shelter whose philosophy has not only changed the lives of hundreds of animals but also of the human volunteers — more than 400 of them — who have bolstered the dream that began with Paige O'Neill.
BUSINESS PRACTICES
Mostly Mutts started like most rescues, with a dogged founder supported by a handful of volunteers willing to foster. Many rescues will continue on that road, always needing more funds, pleading for more help, and working themselves into exhaustion and burnout because no matter how much they work, the four-legged refugees never stop coming. A love and deep compassion for animals is just the first step in running a shelter program — but it requires so much more.
Paige set the standard, but it was Tammy Turley, whom Paige hand-selected as executive director upon her 2013 retirement, who would guide it to its current success. Tammy has the compassion part down pat. She's particularly known for her soft spot for special-needs animals — the old, blind, damaged, or disabled. They are the ones nobody else wants and are usually at the front of the line for euthanasia. But Tammy also knows that operating a shelter requires running it like a business, which requires business acumen, funding, and making tough decisions.
A large workforce of volunteers is key because that determines how many animals a shelter can help, she says. Mostly Mutts has about 400 volunteers who foster, feed, groom, train, perform office work, organize and manage fund-raisers, and handle marketing for the 90-120 animals in the shelter's program. Dogs in the shelter building are walked four times a day, courtesy of four shifts of dog-walkers, with eight to 10 people per shift, who come in each and every day.
"None of this would be possible without the volunteers," Tammy says. Take good care of those volunteers, she advises. Mostly Mutts does so with organized orientations, good training, flexible scheduling, and, to show them they're valued, the occasional pizza and ice cream party. Managing funds and making tough decisions frequently go hand-in-hand and shelters should pull only animals for which they can financially care. "I know our budget and if I see a dog with a broken foot, I know I have the money to fix that," she says. Unfortunately, not all shelters would have the money to pay for that dog's veterinary bills; that's when the tough decisions must be made.
GAME-CHANGER
Kennesaw resident Anne Reed, a devoted animal advocate, bought an 8,100-square-foot building, gutted it, and built a state-of-the-art animal shelter with private rooms, grooming station, play rooms, and special accommodations to keep sick animals away from healthy ones. She then reached out to local rescue groups to give one of them a boost and chose Mostly Mutts because of Tammy's commitment to rescue special needs and injured pets. She sold it to Mostly Mutts "for an offer they couldn't refuse," Anne says with a smile.
This new building, opening in February 2016, became a game-changer for Mostly Mutts, previously housed in an out-of-the-way warehouse, Tammy says. The shelter's location on a busy corner increased visibility, as did its stepped-up public relations, marketing, and fundraising efforts, courtesy of volunteer Charlotte DeMarco.
Fundraisers include a casino night, a large annual flea market, golf tournament, Ride to Rescue bike ride, bake sales, and partnerships with restaurants who regularly designate a percentage of their sales to Mostly Mutts. The shelter's profile also has been raised with dynamic community outreach, which benefits both Mostly Mutts and Kennesaw.
For example:
Dogs and their handlers regularly visit a senior citizens' home, providing animal companionship to the elderly and socializing for the dogs.
Elementary school pet clubs to help youngsters learn early about the responsibilities of raising an animal, such as spay/neuter and pet care.
Young students visit the shelter to read to the dogs, which boosts their reading skills while socializing dogs.
"In putting the shelter together," Anne says, "I had no idea the impact it would have on so many people."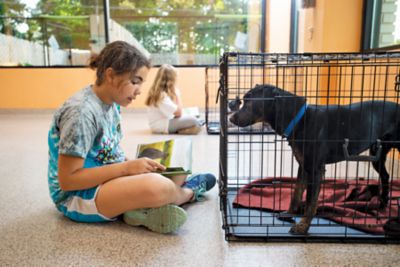 WELL-TRAINED
Professional dog trainer Emily Shervin was the Mostly Mutts volunteer to call when a foster or adoptive family needed help with a dog's behavior. "Sometimes I would do just one training session and they would say, 'Oh, we can keep doing this,' and they would keep the dog," says Emily, now the shelter's head trainer. "So we thought if we could help jump-start training in the shelter, it would make the dogs more adoptable." Mostly Mutts' commitment to each animal in its program begins as soon as it arrives. After a dog's health issues are treated, he is assigned to a trainer with whom he spends at least 20 minutes three times per week learning general obedience — lessons that will make him more appealing to adopters.
Mostly Mutts dogs are taught to sit, come, down, stay, leash walk, accept strangers, go in and out of doors nicely, and "place," which is going to their defined location and staying there. Trainers also work intensely to help dogs overcome their particular issues, such as such as aggression toward other animals or paralyzing fear of humans, Emily says. "There is a home for every dog," she says, "and we are going to ride it out with them until we find them that home."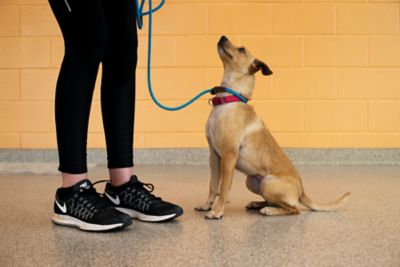 ROXY
That philosophy was tested with Roxy, the disc dog. Even after she was saved from the streets, she faced rejection after rejection — five, in all — when foster or adoptive families couldn't handle her high-energy personality. Most homeless dogs don't get five chances to find their forever family. Many don't get even one. About 1.5 million shelter animals (670,000 dogs and 860,000 cats) are euthanized each year, according to The American Society for the Prevention of Cruelty to Animals' 2017 statistics.
Roxy was fortunate to be a Mostly Mutts dog — where there is no such thing as the end of the line. And so after her fifth rejection, Roxy was once again placed back on the list of adoptable animals at about the same time that Kennesaw resident Jac Greenlee was searching for a herding dog like Princess, a beloved pet from his early childhood. "I saw the picture of Roxy and it was her eyes," he recalls of that day in 2008. "Her eyes just blew me away."
Jac knew that Australian shepherds and herding dogs like Roxy are active dogs, which fit his lifestyle. His research on the breed revealed that they should be exercised and trained each day. "Roxy was not unique to her breed for the problems she had been exhibiting. She was just saying, 'Give me a job. Tell me what to do.' The more structure you put into a highly intelligent dog's life, the more they love you," Jac says.
A turning point occurred when Jac and Roxy were in the pet supply store where she got groomed. "The proprietor there said, 'Hey, that's a disc dog, man,' and I said, 'What's a disc dog?'" Jac recalls. "He said, 'Get that dog a Frisbee© and you'll make her very happy.'" At last, Roxy would have the job she needed. She and Jac began daily training and when the world disc finals were held in nearby Cartersville, Ga., later that year, Roxy and Jac entered the novice division, placing first out of 57 entrants.
Jac watched as experienced teams competed in freestyle, which is a two-minute choreographed routine in which the dog jumps off the owner's back, among other acrobatics. "I thought, 'Roxy could do that,' and that's when we went all in," he says. The next year, they competed in open freestyle and placed first in the United States. That same year, they placed second in the U.S. and third in the world in toss-and-fetch. In subsequent years, Jac and Roxy would continue to collect championships. In the last year, at age 11, she has retired from competition, though she's always up for a game of toss-and-fetch with Jac.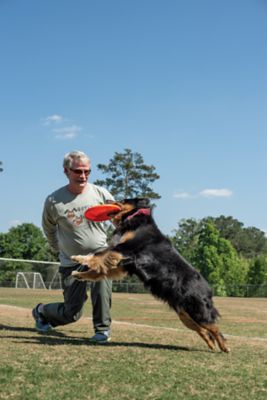 MONTGOMERY
Montgomery, or "Monty," as Anne and James Healy lovingly call him, initially was so fearful and shy that the simple act of taking him for a walk was almost impossible. The golden retriever/Labrador mix was one of some 20 dogs living as a pack in a rural area, which meant he had little or no human interaction when Mostly Mutts took him in. "Monty was pretty wild and very, very shy, but that didn't put us off," Anne recalls.
The Healys initially enrolled Monty in an obedience class, but quickly pulled him out. "That didn't work because he was so far behind in social skills and so frightened," Anne says. Instead, they allowed Monty to adjust to his new life on his own terms. "We basically accepted him for who he was and let him be him." Now, he's one of three rescue dogs living a comfortable, secure life in the Healy home. "Sometimes people want a dog to be immediately what they want him to be," she says. "With Monty, we let him do it in his time."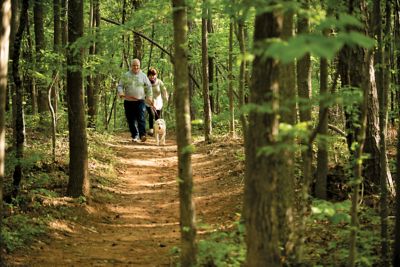 SUCCESS FOR ALL
Like Roxy and Montgomery, each Mostly Mutts animal eventually will become a success story, because Tammy Turley and her crew settle for nothing less. "Everybody is faithful to the cause," says building donor Anne Reed, "and none of us can resist a dog." ★
Out Here editor Carol Davis shares her home with two rescue mutts: Katie and Page.