MINI SILKY FAINTING GOATS
Relatively new breed makes a beautiful show animal and adorable pet
By Jodi Helmer
Photography by Danielle McGrew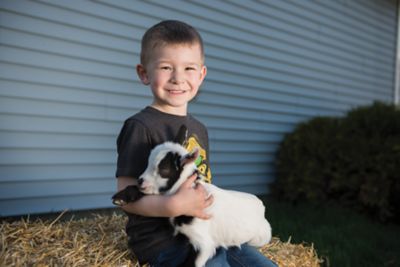 Pam Engel and her husband, Greg, brought their first goat home in the mid-1990s. The pygmy goat, purchased at a fair, was meant as a companion for their horse. The horse had other ideas. "The horse did not like the pygmy goat," Pam recalls. "It tried to pick it up and throw it." The couple built a separate pasture for the goat on their Elwell, Mich., farm, and got another goat to keep it company. Over the next 15 years, as Pam's love of goats grew, so did the herd.
Pam was researching breeders in the hopes of purchasing a few fainting goats — a breed with a muscular condition that causes them to stiffen up and fall over when they get excited or scared — when she stumbled
across information about miniature silky fainting goats. The silky goat breed was developed by breeding Nigerian Dwarf goats and longhaired Tennessee fainting goats. The result is a petite goat with a long coat and shaggy bangs that, despite its name, doesn't need to faint to meet the breed standard. "I'd never heard of them before but, as soon as I saw them, I fell in love and thought, 'Oh, I need to get these,'" Pam recalls.
Despite her immediate infatuation with the goats, Pam took her time researching the breed before purchasing her own "mini silkies." Pam purchased her first herd of mini silkies from breeders in Michigan, Virginia, and Indiana in 2009. She started Mulberry Meadow Mini Silkies with the goal of developing the breed, while also raising some adorable babies.
Initial breeding efforts were lackluster. The kids, while healthy and adorable, lacked the long hair and bangs that. Pam desired but she persisted and, through selective breeding and the addition of blue and white fainting goats, a color she'd never seen before, the herd at Mulberry Meadow Mini Silkies started producing gorgeous blue and white mini silky fainting goats.
DEVELOPING A NEW BREED
Although the mini silky is a new breed, the Mini Silky Fainting Goat Association reports a significant uptick in interest with 6,500-plus registered goats, compared to just 3,367 in 2012.
Developing a new breed is tricky. Both mini silkies and fainting goats started with small gene pools and, in the beginning, Pam struggled to find an unrelated buck to breed to her does. The Mini Silky Fainting Goat Association has allowed foundation stock — goats that are not registered mini silkies but have the right look and size to breed to the standard — to help diversify the gene pool. On her farm, Pam uses a sophisticated software program to avoid breeding related goats.
While science plays a huge role in breeding, Pam believes there's an element of intuition, too. "It's just having an eye for what animals to breed," she says. Mulberry Meadow Mini Silkies maintains a herd of about 30 mini silky fainting goats. Unlike other breeds that are raised for milk, meat or fiber, Pam notes, "You don't eat (mini silkies), milk them, or use their fiber; these are just pets."
The flowing tresses do require a little grooming: Pam brushes her herd twice in the fall and twice in the spring to maintain their smooth, silky hair, which she compares to nylon Barbie doll hair with a high sheen. It's the combination of their sweet personalities and long hair that attracts people to the breed. Pam sells most of her kids to buyers in Michigan but breed enthusiasts often arrive at the farm from other states, livestock trailers in tow. She vets prospective buyers carefully, requiring pictures of their facilities and asking detailed questions about their experience with goats before selling any of her kids.
Even when she's confident her mini silkies are going to good homes, saying goodbye is always emotional. "I try to be at the birth of every single one of my kids … and I tell my husband that I get sick to my stomach every time I sell one because I love them," she says, "but he reminds me that I can't keep them all." ★
Jodi Helmer is a North Carolina writer.