KEEP TRACK
Record-keeping is essential to good livestock management
By Heather Smith Thomas
Photography by iStockPhoto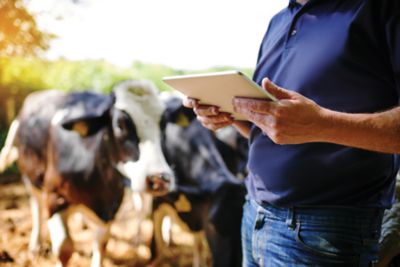 Record-keeping is important in any venture, and that is especially true in raising livestock. Even a small herd or flock requires management practices for which you should keep track, whether you're administering health treatments or managing a breeding program. Before you start, create some form of identification for each animal. Numbered ear tags are especially helpful if someone else is doing your chores and you need to tell them which animal needs certain care.
HEALTH MANAGEMENT
Vaccinations. Recording vaccination dates, along with the vaccine used, is crucial so if an animal has a bad reaction to a vaccine you will know what you gave, and when. You'll also know when to booster certain vaccines that require multiple doses. Deworming/delousing. Deworming and delousing dates and products also should be noted because you may need to re-treat the animals after a certain length of time or change products to avoid resistance in the parasite populations.
Antibiotics. Read labels and keep track of withdrawal times — length of time before you can butcher or sell that animal, or market the milk — to avoid residues in the meat or milk. If you raise livestock for very many years, even with good care there are always some that get sick and need treatment or medications. It's also good to be able to look back through your records to see if a certain animal had a problem last year.
BREEDING
Livestock records can help plan and prepare for future procedures and can help you make good decisions. For example, tracking breeding dates in conjunction with gestation-length charts will allow you to determine birth dates so you can be ready for the happy event.
For breeding records, use a sturdy notebook with a good binding that will last many years, because you may want to look back at records from previous years, especially when keeping track of the lineage of individual animals. You may want to see the sire and dam — and their sires and dams — so you can make good breeding decisions and avoid inbreeding. And if you pregnancy-test cows, write down which ones are pregnant. This helps when making marketing decisions later, enabling you to cull the ones that aren't going to calve the next year. ★
Heather Smith Thomas is an Idaho cattle rancher and author of several livestock books.