HERO DOG
Livestock guardian Odin protected his herd through devastating, deadly firestorm
By Noble Sprayberry
Photography by Devin Bruce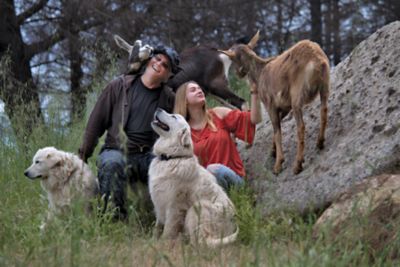 The first sign of trouble appeared as the Sunday night barbecue with friends wound down on Roland Hendel's 35-acre property on a mountain above Sonoma wine country. "A neighbor called and said they smelled smoke," Hendel says. "We had a plan for fire, so we prepared in case we had to evacuate. I got on my ATV and drove up the mountain, and I couldn't see anything. Then, coming down, I saw ashfall." After rushing home, he went to the upper floor of the house. He called neighbors, who were evacuating. And he could see fire in the sky. "That's when I realized the plans we had for a fire — there was not enough time for them," Hendel says.
Friends who lived on the property gathered. Along with Hendel's then-14-year-old daughter, Ariel, they loaded the family's rescue dog, indoor cat and one Great Pyrenees, Tess, into a car. But on a hillside, the rest of the farm's inhabitants waited — eight goats and their protector, another Great Pyrenees named Odin. "All the goats had gathered and Odie was in front of them, and at this point I was really shocked," he says. "There was no way we could hook up the trailer, back it up and load them."
Hendel called for Odin, who was raised with the goats and protected them from coyote and mountain lion. "He looked at me as if to say, 'Hey, I ain't going nowhere.' He looked concerned, but he was also kind of wagging his tail." At this point, the wind began to swirl, a sign of approaching fire, and the sky blazed orange. Hendel made a choice. "The hardest part of all of this was driving away with Ariel looking back at Odin and the goats," he says. Driving fast, they made it to a main road. "That's when a car came roaring up behind us … it was on fire."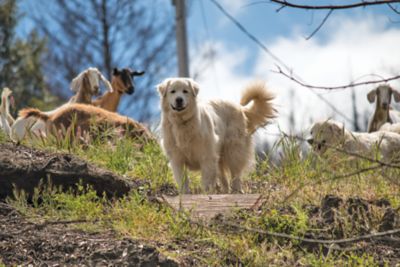 A NEW LIFE
Odin, the goats, and a life Hendel built with Ariel seemed lost in the blaze that would become known as the Tubb's Fire, one of three that hit the area at the same time. Damage estimates topped $1 billion, and more than 40 people, including a pair of Hendel's elderly neighbors, lost their lives. Hendel is a native of San Francisco and a single father. He and Ariel left city life behind in 2015, and the land surrounded by vineyards and containing several groves of redwoods seemed ideal for a new home. "I wanted to live somewhere in nature, and she wanted that too, and she wanted to have animals," he says.
They wanted help clearing brush, so they bought eight goats at auction, paying $4 for several. They bottle-fed the goats, keeping them inside. "I came into the living room one morning and found Ariel cradling one of them, Tinkerbell, by the fire," Hendel says. The idea was to eventually have the goats roam the property, and Hendel knew he might lose one or two goats annually to predators. "That's just nature, and I thought we'd be okay with it, but we became very attached to those goats," Hendel says. "And Tinkerbell was the smallest and would be the most at risk."
That's when Odin and Tess came into the picture. Hendel bought the two puppies who would live with the goats. Great Pyrenees are a Livestock Guardian Dog breed that typically lives with their livestock — usually goats or sheep — to safeguard the vulnerable animals from predators. Their duty is the safety and well-being of their flock, and Livestock Guardian Dogs, which bond with their goats or sheep, are determinedly single-minded in their work. They're also fiercely independent and generally don't need human help. "It was very hard not to bring them into the house, but we wanted them to bond with goats and not us," Hendel says.
And the dogs did quickly learn their responsibilities. Each day, Odin would patrol the perimeter of the property while Tess remained with the goats. In the evening, she would walk a smaller perimeter, and he would keep a watchful eye of his charges. While Odin was friendly with humans, it was hard to get him to ever leave the goats.
A LOYAL DEFENDER
When the fire came, Odin stubbornly stayed. Hendel and his friends fled the mountains, eventually finding a safe place to overnight. The next morning, along with a friend, Hendel returned home, an adventure unto itself. The house was smoldering rubble. Wooden fence posts were ash, only the metal wire remaining. And Hendel, who still chokes up when describing the scene, was prepared for the worst for the goats and Odin.
"Looking out across the pasture, I could see these little black and brown dots," he says. "Then, there was the familiar movement of Odie's tail, and he came running up to meet me. I began counting the goats and all of them were accounted for, every single one. Odie was exhausted. His fur was singed and his eyebrows had melted. He was limping badly and there was soot around all their noses." Hendel believes Odin, whose paw pads were singed, herded the goats into a grouping of large rocks in the middle of the pasture, where several deer also gathered. Somehow, the animals survived the firestorm. "I felt so thankful for those $4 goats and for Odie," Hendel says. "I couldn't wait to tell my daughter."
Odin, who became something of a social media star after Hendel posted details of the experience, recovered quickly. Along with the goats and other animals, he stayed at Goatlandia Farm Animal Sanctuary in Sonoma County after the fire. Hendel is rebuilding his home, planning for an eco-friendly, fire-resistant design using high-tech fabric filled with earth and rock.
And by May, all of the animals had returned to the land. ★
Noble Sprayberry is a Georgia writer.