CURRYING FAVOR
Use the right tools, techniques to groom your horse
By Fran Jurga
Photography by iStockPhoto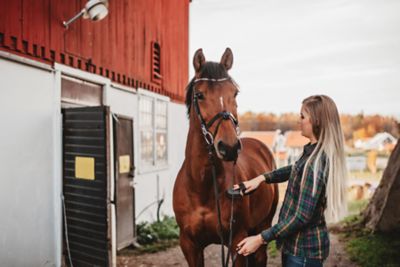 Grooming your horse not only cleans dirt and debris from his coat and prevents hoof problems, but it also bolsters skin circulation, helps you notice cuts, swelling, or changes to his body, and strengthens the bond between the two of you. Begin by choosing a quiet spot with little traffic where your horse can relax. Tie him securely and consider giving him a hay net— a hanging net filled with hay — so he can contentedly graze while getting groomed.
Start with a plastic curry brush to loosen caked-on mud and heavy dirt and rub his upper body — not his face or legs — in a circular motion. Once all the dirt is loose, you're ready to brush. Make sure you have two: a stiff bristle "body brush" and a soft one, with bristles that bend. Brush with the stiff bristles first, working from neck to rump. Be gentle to the tender skin under the belly and between his legs.
Switch to the softer brush for the lower legs and face. Gently clean his ears and eyes and the corners of his mouth with a clean damp towel or wrung-out sponge. To remove grass or manure stains, stick with a commercial equine spot remover or a mild shampoo and warm water, and not harsh household cleaners. Be gentle when you scrub over joints such as the knee and hock. Next, move on to the mane and tail, using a good de-tangler brush or opt for a wide-toothed comb, depending on how tangled your horse's hair is. Commercial mane-and-tail de-tanglers also can help. For your safety, work to one side of your horse's rump, and not directly behind, when you're brushing his tail.
Finally, move down to the hooves. Use the hoof pick to remove rocks, dried mud, and manure from each hoof and inspect each hoof for signs of cracking or other injuries. Consider applying a hoof dressing to maintain healthy feet. For shod horses, check for twisted shoes or loose clinches at the end of a horseshoe nail. Now that your horse is all clean, do the same for your grooming tools before you put them away. They'll be conveniently ready to use for the next grooming. ★
Fran Jurga is a Massachusetts writer who specializes in equines.
SHOPPING LIST
Find these items at your local Tractor Supply store or online at TractorSupply.com:
Curry brush
Stiff-bristle body brush
Soft-bristle body brush
Equine shampoo
Mane-and-tail brush or comb
Mane-and-tail de-tangler
Hoof pick
Hoof dressing