FOR THE LOVE OF DONKEYS
Missouri woman devoted to rescuing long-eared friends
By Marti Attoun
Photography by Gerard Attoun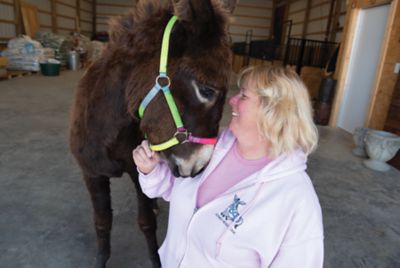 By 7 a.m., Deanna Kafka's breakfast crowd starts showing up at the corral. Jasper, Jubilee, Wally, Nova, and the other donkeys mosey in from across 90 acres. "COME ON!" Deanna bellows at a few stragglers. One by one, and sometimes two by two, the gentle "long ears" walk through the gate and nose into a space at one of the many feed troughs. An "EE-AW" can be heard now and then. "One, two, three …," Deanna does a head count as they pass by. "Let's see. We've got 63 donkeys here, six in quarantine, one in the hospital, two in the barn. Plus, two hinnies, two minis, five horses, and one mule." Welcome to T&D Donkey Rescue in Liberal, Mo. All of the furry residents are living the good life after being rescued from starvation, abuse, or an auction "kill pen."
"When they come here, they're untouchable," Deanna says. Many of the donkeys have been used for roping practice and suffered broken legs and hips and other painful injuries. They're terrified of humans. After months of tender care and often surgery, they transform from "untouchables" to what Deanna affectionately calls "unbelievables." With help from a herd of volunteers and donations for food and vet bills, Deanna has rescued more than 400 donkeys since fall 2014. Once the donkeys' bodies and spirits heal and they're trained for a halter and saddle, they're adopted out to approved loving families around the United States.
THE INSPIRATION
Although she's ridden horses since she was 3 and been involved in equine rescues for 20 years, Deanna didn't know much about donkeys until a frantic phone call that two emaciated jennies — female donkeys — had been left in a kill pen in Oklahoma. For $20 or so, "kill buyers" purchase donkeys for export and slaughter. In other countries, the animals are valued for their meat and skin, which is used in medicine and beauty products. "The horses were rescued, but no one wanted the donkeys," recalls Deanna. "My friend said, 'Is there any way you could take those donkeys?'"
Deanna didn't hesitate. "Absolutely!" It didn't take long for the pitiful pair, which Deanna describes as "skin draped on bones," to steal her heart. The donkey she named Floppsalot because of her long floppy ears inspired her to found the nonprofit donkey-specific sanctuary. Floppsalot had a deteriorated hip joint and damaged tendons and ligaments in her hind legs from being used for roping. She was on pain medicine for the last two years of her life. "Floppsalot taught me about forgiveness," Deanna says. And she taught her about donkeys — their smarts, gentleness, and playfulness.
They think differently than horses, which often leads to the misunderstanding that they're stubborn. "You can't force a donkey, so you make the action their idea," Deanna says. "Once you learn what makes a donkey tick, they'll do almost anything for you." Many farmers keep donkeys as guard animals for their sheep, goats, and cattle. Other donkey owners use their pets to ride, pull carts, and take to shows. And Deanna is training her famous donkey, Petals, as a certified therapy animal.
Petals became a social-media sensation after she trotted behind Deanna to the mailbox one day and snatched some letters with her teeth. Deanna posted the photo on Facebook and it went viral. Now Petals gets fan letters from around the country and Deanna answers each one. Petals adds her signature hoofprint.★
Marti Attoun is a Joplin, Mo., writer.