TOUGH AS LEATHER
Retired cowboy hand-tools his way through chronic pain
By David Frey
Photography by Larry Turner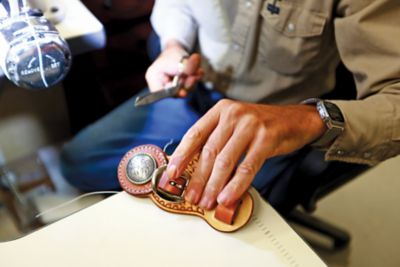 There's something timeless about Dave Simmons' hand-tooled leather work. Whether it's a floral pattern on a handbag or a basket weave pattern on a knife sheath or the fine stitching on a horse's breast collar, the craftsmanship hearkens back to the work on cowboy leather from decades past, or a century ago, or more.
For Simmons, it's a way to keep alive inside him the cowboy that has always been who he is. It's been six years since he's ridden, but he still has his custom-made saddle in hopes that he'll sit on it again and look out at the world from the back of a horse. Chronic pain has left this cowboy walking with a cane, on the days he isn't in a wheelchair. But he still has his memories of breaking colts on the ranch and following cattle on horseback across the Colorado high country, with the leather saddlebags and spur straps he built by hand. And he still has his leather-working tools that keep him in touch with cowboying. "It was a way of life," Simmons says. "To this day it's still in my blood and still in my heart."
Simmons is tall and thin, with an untamed handlebar moustache. He grew up in western Colorado, but he lives in south central Oregon now, in the town of Lakeview, a community of some 2,300 people near Goose Lake, where Oregon's high desert meet the Cascades. That's where he works his leather under the name Crippled Cowboy Leather and Arts. "Crippled" isn't the way most people with disabilities refer to themselves, but Simmons is blunt about the condition that has kept him away from the lifestyle he used to love.
The term crippled "doesn't bother me," he says. "I kind of look at myself as a realist. You gotta pretty much deal with what's been handed you." What led to Simmons' condition is something of a mystery. Doctors haven't provided much of an explanation, and they haven't offered anything in the way of a cure— just pain medication that he refuses to take. He'd rather put up with the constant aching, he says, even when it means he can't walk. Maybe the pain goes back to his years in the saddle. Simmons spent about 15 years as a cowboy near Yampa, Colo., living a lifestyle many people believe has disappeared.
Summers had him on horseback, tending some 1,000 head of cattle in the mountains — angus and Herefords and crosses of the two — checking on the strays and doctoring the sick. He wore spurs on his heels, a pistol on his hip, and a rope close at hand. On one of those summer afternoons, Simmons was walking his horse Badger on the flanks of Castle Peak, an 11,000-foot mountain rising between the town of Burns and Eagle. As they crossed a spot called Windy Ridge, Simmons noticed a dark cloud moving out of the southwest. It didn't look too ominous, he thought, but Windy Ridge was a bad place to be caught in case of lightning.
He eased Badger downhill into a draw that cut through sagebrush meadows when he reached a cattle fence that divided private property and federal land. Simmons dismounted, unlocked the padlock and opened the gate. After leading the horse through, he closed the gate behind him. As he was locking the padlock, a blast sent him flying 15 feet from the fence, knocking him to the ground. Badger was prancing wildly. "It felt like I got hit in the chest with a cannonball," he says. "I never saw a flash, never heard the thunder. Then it dawned on me what happened."
It must have been lightning, Simmons says. That was the late 1990s. By 2003, sitting in the saddle was becoming painful. In the years since, his pains have gradually worsened until 2012, when he took his boots out of the stirrups and dismounted for the last time. "I still have my saddle," he says. "I ain't gonna get rid of it. One of these days, even if it's just for five minutes, I want to get back on a horse. Just to ease the heart." But just because he couldn't ride anymore, he wasn't about to give up the cowboy life. He may not have a horse, but he could still work with harnesses. He may not have cows to work with, but he still works with leather.
As a 9-year-old, his mother had gotten him interested in leathercraft at 4-H, and it was a hobby he never let go of. About three years ago, he devoted himself to it full time, filling custom orders, traveling to craft fairs, and posting his work on his Facebook page. He makes cellphone cases with scalloped borders, holsters with feather designs, decorated journals, and monogrammed purses that wow his customers. Handbags, belts, and wallets are big sellers. Each one is a challenge, he says. Each one is also a work of art. "It's a way to keep cowboying," Simmons says. "If I can't be where my heart is at, I might as well do something else that I enjoy." ★
David Frey is a Gaithersburg, Md., writer.
DIG DEEPER
See more of Dave Simmons' leather work at facebook.com/DaveSimmons1212