CAST-IRON COOKING
'Everything comes out so tender and good'
By T.L. Dew
Photography by iStockPhoto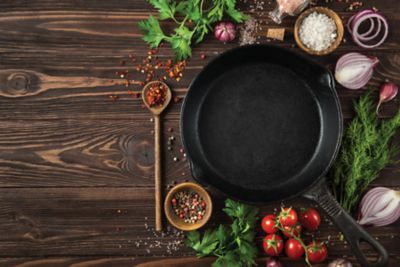 Whether you are an old pro in the kitchen or a novice about to prepare your first family dinner, there's something Colleen Sloan wants you to know. If you are not using cast-iron cookware, then you are missing out on one of the easiest ways to prepare evenly cooked food. "I use all cast iron," says Colleen, an experienced cook and author of seven books on cast-iron cooking. "I've got everything from a 4-inch skillet up to a 20-inch." But she swears by her cast-iron Dutch oven. "I have been cooking in these since I was old enough to lift a lid, and I am almost 80 years old," Colleen says.
The centuries-old cooking method ensures an evenly cooked meal every time with little effort but the trick is allowing the cast iron to do the work. "Most people want to lift the lid and stir" which interferes with the process, Colleen says. She describes a cast-iron Dutch oven as a pot that combines the best qualities of a slow cooker and pressure cooker. "That's why everything comes out so tender and good," she says.
When cooking with a cast-iron Dutch oven, Colleen doesn't even set a timer because it cooks so thoroughly that she doesn't have to worry about anything being undercooked. Instead of watching the clock, she relies on her senses and encourages others to do the same. "Wait for the smell," she says. "It will tell you when it's done." Cooking in cast iron dates back centuries and no one knows for sure who invented it, Colleen says. "I have a 1707 bean pot from England that my great-great-grandmother brought over here," Colleen says. "Cast-iron cookware is a lifetime investment."
Now, Colleen, a member of the International Dutch Oven Society and author of several cast-iron cookbooks, teaches classes twice a month on how to cook with cast iron. There has been renewed interest in cast-iron cooking since 2010 with cast-iron cookware sales enjoying a steady climb. Cast iron appeals to modern-day cooks because the iron heats so quickly, retains its heat and is quite versatile, Colleen says. Consider how cast iron can be used on a stovetop, in the oven, or over an open fire.
Furthermore, it doesn't take as much energy to heat the cookware, Colleen says. "It becomes fuel efficient to cook with these," she says, explaining that if a cast-iron pot or skillet is put inside a conventional oven, there is no need to keep the oven set on the optimum temperature because the cast iron absorbs and holds the heat. If a recipe calls for 350 degrees, she aims for 300 to 325 degrees. "They gain heat," she says of cast-iron Dutch ovens. "To me it's the original sun oven. If you took it outside and set it in the sun, if it's 90 degrees outside (the pot) will be over 140."
Colleen has cooked just about everything in cast iron. She even made ice cream in a cast-iron pot. "Anything you can cook at home, I can cook in a Dutch oven or skillet," she says, such as cornbread, biscuits, pancakes, meats, fish, poultry, soups, stews, soufflés, cake, and more. "A Dutch oven is made to be a total cooking pot," she says. "If you go camping, you only need a Dutch oven to go." The bottom can be used for frying, turn the lid upside down and you have a griddle, put the lid on and there's an oven.
If you're almost convinced to give cast iron a try, but are remembering that your grandmother had to season her cast iron before using it, don't worry because manufacturers now produce cast-iron cookware that is already pre-seasoned. This eliminates the extensive heating and oiling steps your ancestors took to season the iron before cooking in it.
Once you get it home from the store and out of the box, just rinse it out, warm it a little, lightly oil, and start cooking. ★
T.L. Dew is a Tennessee writer.
DIG DEEPER
Colleen Sloan's newest cookbook is Dutch Oven and Cast Iron Cooking: 100+ Tasty Recipes for Indoor & Outdoor Cooking. See "Out Here Picks" on page 58.