AYLESBURY DUCK
Critically endangered British breed is teetering toward extinction
By Jeannette Beranger & Marjorie Bender
Photography by Frank Reese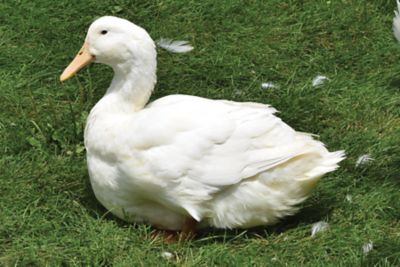 The Aylesbury duck, once known as the "English duck," is native to England, originating in the Vale of Aylesbury in Buckinghamshire, an area established in duckling production. Before train lines were introduced in the region, ducks would have to be walked 40 miles to the London market. Special inns along the way had large yards to house ducks overnight. In the mornings the birds were "booted" by walking through a tarry substance and then sawdust to create a protective covering on their feet as they made the long trek to London.
The Aylesbury crossed the Atlantic and was first shown in the United States in the 1840 Boston show. But now, the breed is teetering toward extinction. In The Livestock Conservancy's recent census of domestic waterfowl in North America, only slightly more than 100 breeding Aylesbury ducks were found, making them critically endangered. New stewards are needed now more than ever if the breed is to survive.
The Aylesbury's large size and coloring make them an excellent market bird. This breed is pure white and has a characteristically straight, deep keel — extension of the breastbone — that nearly reaches the ground. A male will weigh about 10 pounds at maturity while a female, which lays about 50+ eggs annually, weighs around nine pounds.
The Aylesbury is of two types — exhibition and utility. The exhibition bird has a very deep keel which, according to Victoria Roberts of the Domestic Fowl Trust in England, makes natural mating difficult. The utility-type Aylesbury is able to mate naturally, especially if the birds are protected against obesity by being allowed to be active. For top fertility and hatchability, breeders must have swimming water and should be fed a ration specifically designed for waterfowl because their nutritional needs are very different from chickens. They are also voracious grazers and do best with access to grassy pastures to forage.
The Aylesbury duck is a superior meat breed. Longtime breeder Frank Reese of Good Shepherd Turkey Ranch in Kansas sold some of his Aylesbury ducks to a New York chef who immediately reached out to say, "Of the hundreds of ducks I've cooked in my lifetime, these were by far the best and most flavorful." ★
Jeannette Beranger is The Livestock Conservancy's Research & Technical Programs Manager. Marjorie Bender is its former Programs Director.
DIG DEEPER
Find out more about Aylesbury ducks by visiting LivestockConservancy.