Water-Wise Yards | Summer 2015 Out Here Magazine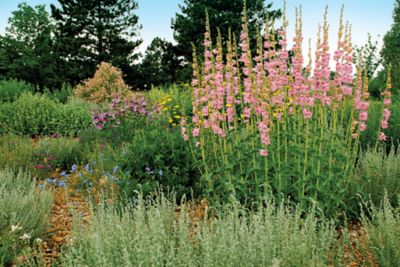 Xeriscape's can be a refreshing oasis teeming with life.
Conserve Water while creating beauty with xeriscaping
Story and photography by Jodi Torpey
Some may think a xeriscape looks like Death Valley — bone dry with a few prickly plants. But the exact opposite is true. A well-planned xeriscape can be a refreshing oasis teeming with life. It just doesn't use much water.
Any landscape designed to conserve water is a xeriscape, especially when it limits the need for irrigation. Since 1981 when the city of Denver's water department first coined the term, water-wise gardeners have given new meaning to "dry landscaping."
Besides saving water, xeriscaping reduces the need for fertilizers, herbicides, and pesticides. Landscapes that rely on plantings of native flowers and shrubs naturally require less maintenance. They also attract bees, birds, butterflies, and other pollinators to the garden.
While some areas of the country have more severe water issues than others, it makes sense to conserve water no matter where you live.
The key to xeriscaping is rethinking how you use water in your current landscape design. It's a good idea to start with a small project and then grow from there, because even a partial xeriscape will save water. These steps can transform your landscape into a xeriscape:
Design for water conservation. Look around your yard or property to see where water use is the highest. Identify places where you could reduce or limit irrigation, such as seldom-used spaces or areas that are highly maintained.
Improve the soil. Adding organic matter, such as compost, to the soil will let plant roots grow deep and help retain water.
Create useful turf areas. Cutting back on grass is one of the best ways to save water. Decide how much irrigated turf your family really uses and how much could be replaced. Low-water grasses, groundcovers, perennial flowers, and shrubs can fill the space.
Irrigate efficiently. Save water by irrigating turf areas separately from planting areas. Use low-pressure, low-angle sprinklers and keep the sprinkler system well maintained. In flower beds, use drip irrigation or soaker hoses under mulch. Plants don't need as much water as you think.
Select water-wise plants. Fill your xeriscape with colorful, climate-adapted plants that grow in your region. Group native plants by their water needs, clustering together those that use less water in drier areas and those that need slightly more water in moister areas. A xeriscape can be a flower-filled cottage border, a formal garden bed, or a meadow-style expanse.
Mulch to retain moisture. Mulch is an important part of a xeriscape because it helps maintain soil moisture. Depending on the plants you select, you may need rock, gravel, bark, wood chips, or straw.
Maintain the xeriscape. Even though a xeriscape requires less maintenance, it won't be maintenance-free. During the first two years, plants will need some water to get established and mulch may need refreshing. You may need to do some pruning in spring or fall, but you won't spend much time watering your beautifully dry landscape.
Jodi Torpey is a master gardener and author who tore up the turf in her Denver yard years ago to create a colorful water-wise landscape.