Senior Dog Rescue | Summer 2015 Out Here Magazine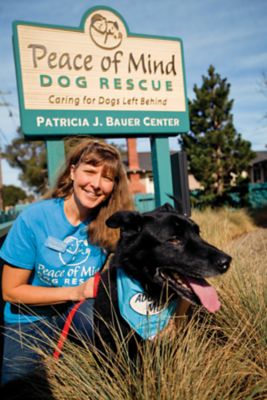 Carie Broecker, here with Barney, is co-founder of a dog rescue dedicated to finding homes for older dogs.
California dog rescue devoted to helping aging pets find forever homes
Photography by Laura Dickinson
If Gizmo, one of the dogs available for adoption through Peace of Mind Dog Rescue, could write his own personal ad, it might read: Senior gentleman looking for long-term relationship with a loving family. I love gourmet treats and snuggling on the couch. Even though I don't hear very well and have some grey around my muzzle, I promise to be a loyal companion.
Because Gizmo and the other 60 senior dogs that are living in foster homes and waiting for their "fur-ever families" can't speak for themselves, Carie Broecker, co-founder of the Pacific Grove, Calif., rescue is doing it for them.
"There is a real need to help senior dogs," Carie explains.
Many older dogs end up in shelters because something happens to their owners; others are surrendered due to health problems associated with aging, such as doggie dementia or incontinence, she notes. No dog, regardless of its age, likes being in a shelter but the experience tends to be harder on older dogs.
"Older dogs often become depressed in a shelter, sitting at the back of the kennel, staring at the wall and waiting for their person to come back," she says.
Keeping older dogs out of shelters — or preventing them from ending up there in the first place — is the goal of Peace of Mind Dog Rescue.
Carie came up with the idea to start the rescue in 2009 while she was caring for Savannah, a 9-year-old dog whose owner, Alice, was in and out of the hospital with a chronic illness. While Carie was visiting the hospital, Alice confessed that she worried about what would happen to Savannah after she died.
"It was heartbreaking," Carie recalls. "I promised to take care of her."
On the way home from the hospital, Carie called Monica Rua, a longtime friend and dog rescue volunteer, to talk about her promise — and the need to support senior dogs. Within minutes, the pair decided to start Peace of Mind Dog Rescue.