Senior Nutrition | Summer 2015 Out Here Magazine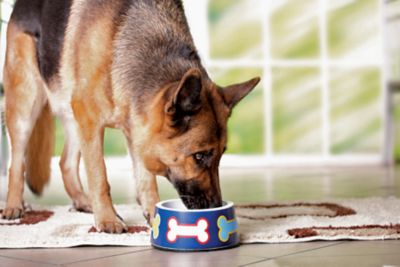 Choose food that aids your dog's aging body and mind
Photography by iStock
As people age, they generally slow down and take more care to eat healthy and nutritious foods. The same should be true for their four-legged best friend; a dog's nutritional needs can change tremendously from his playful puppy stage to the time he sprouts his first gray whiskers and frosty-looking eyebrows.
Neglecting to adjust a senior dog's diet can result in health problems and disease, a shortened life span and reduced quality of life.
Most importantly, as a dog ages and becomes less active, continuing to feed it the same way you did when it was an exuberant youngster can cause obesity.
The key is in knowing your dog well and paying attention to its changing needs over time, says Susan Lauten, a pet nutritionist with a doctoral degree in biomedical sciences.
Through her practice, Pet Nutrition Consulting (petnutritionconsulting.com), Lauten helps clients who have pets with unique nutritional needs, but she also troubleshoots diet issues in aging pets.
Around the time small dogs reach the age of 8 and large dogs turn 6 years old, owners should be paying close attention to their pets' diets and re-evaluating their nutritional needs, Lauten says. This age difference accounts for the fact that large dogs age faster than small dogs.
A dog's temperament and activity level is also something to consider, because some breeds tend to naturally be more sedate.
"If your dog is bouncing, healthy, and at a healthy body weight, then it's not time to switch (food)," she says. "But if you've got one that's overweight, it's very, very important to get that weight off and it's time to switch to a senior food because it's lower in fat."
Simply cutting back on the amount of food isn't a good strategy, because your dog will be missing out on protein it needs for good health when you cut back on the calories.
Aside from stepping on the scale at the vet's office, how can you tell if your dog is overweight? Lauten recommends a hands-on approach.
"You should be able to feel those ribs with just a minor amount of fat cover on them," she says. She also looks at her dog from above to see if it has a waist.
Supporting your senior dog's nutritional needs helps maintain a healthy weight and vitality, and specific formulas do that in a few ways. Senior-formulated dog foods have supplements to help support joints, such as glucosamine and chondroitin.
"For prevention, it works quite well," Lauten says.
Some senior dog foods include fish oils and antioxidants to support cognitive function — the dog's ability to process thoughts — and delay dementia.
"It's been proven that they can actually reverse aging changes in the brain," Lauten says, noting that feeding dog food that contains vitamin C, vitamin E, and selenium can help.
So, if you've determined it's time to make the switch to senior food, Lauten recommends introducing it gradually, to get your dog's palate and gastrointestinal system gently adjusted.
"I recommend making a switch over five to seven days," she says. For two days, mix in 25 percent of the new food with the old food. Then do half new food for two days. Increase the new food to 75 percent for a few days and the transition is complete.
Feed your senior dog correctly and you'll have your best friend around that much longer.
Paradise Ranch's "All Wether Marching Band" is currently the largest group of working pack goats in the United States and are a busy bunch.
Erin McIntyre's senior dog, Maxwell, thoroughly enjoys mealtime after long hikes western Colorado's desert.