Saving The Season | Summer 2015 Out Here Magazine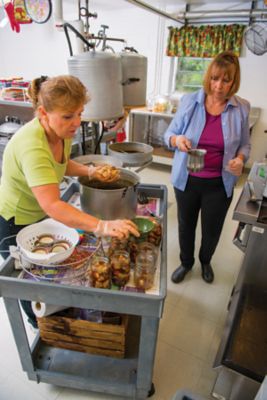 Diane Wortman, right and Patsy Brass fill jars with ingredients for beef stew.
LITTLE ROCK CANNERY NOURISHES A COMMUNITY AND ITS BONDS
Photography by Greg Latza
With care and precision, Diane Wortman pours beef stock over the carrots, onions, and potatoes in the clear pint jars. Through the glass she sees the fresh vegetables from her garden float and bump against the meat from her sister-in-law's grass-fed beef farm. The savory blend is awash in the rich stock Diane made from bones, vegetables, and herbs.
She tightens the lids and places the jars in the pressure cooker. Just 90 minutes later, she has 20 pints of homemade beef stew.
The small pints are handier for her husband to carry on business trips. At the end of a long day on the road, Mike pops one of the jars into a microwave and soon finds himself enjoying a taste of home.
"It keeps him from eating fast food," she says. "If you want to eat well on the road, you can do it."
While her ingredients are grown at home, Diane's savory meals in a jar come together at the Little Rock Cannery, a rare community cooperative in Brooksville, Fla., where residents who want to preserve food for their families are allowed to use a commercial-sized kitchen.
The community kitchen has six pressure cookers that can process 96 quarts at the same time, pea shellers, a heavy-duty food strainer, meat grinders, oversized pots, and a helpful staff well-schooled in preserving food safely.
But the Little Rock Cannery is much more than a place to conveniently preserve fresh food.
This rare community treasure makes it possible for people to eat more local food; eat healthier; preserve food at its freshest and most nutrient-filled; be self-reliant; stretch food dollars; and support local farmers.