Oberhasli Goat | Summer 2015 Out Here Magazine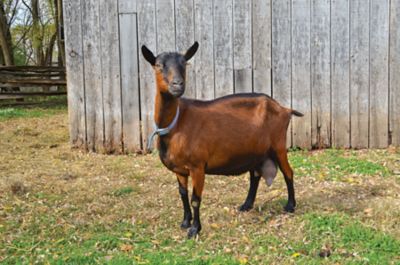 Rare breed is the Swiss miss of the homestead
Reasons to love the rare Oberhasli goat are many: they produce sweet-tasting milk for creamy, flavorful cheese; they have a calm, gentle disposition; and they are prized as a strong, reliable pack animal.
The story of these highly versatile dairy goats originates in the mountainous regions of Switzerland near the capital of Bern. There, they are known as Gemsfarbige Gebirgsziege, which translates to mean, "Chamois-colored mountain goat," refering to the dominant chamois or chamoisee color pattern on their bodies.
Most Oberhasli in the United States can be traced back to 1936 when Dr. H.O. Pence of Kansas City, Mo., imported them. The breed was referred to as Swiss Alpine back then.
Their registrations were included in the American Alpine studbook until 1979 when the breed was granted its own separate studbook by the American Dairy Goat Association and given the official name of Oberhasli.
Today, the Oberhasli is listed as "Recovering," on The Livestock Conservancy's Conservation Priority List, because numbers have improved globally. The Conservancy uses this list to bring attention to livestock, such as the Oberhasli, to connect them with people interested in saving a rare breed.
Historically in Switzerland, the breed was divided into two types — one polled and one horned. The Brienzer-Oberhasli was polled and came originally from the area near the city of Brienz.
The second type was the horned Bünder, which came from state of Graubünden, also known as Grisons.
In 1936, both types were combined into one breed within the Swiss studbook; however, some producers still breed the two separately from each other.
Alison Charter-Smith, vice president of the Oberhasli Breeders of America, is a true believer in the breed.