Forward Strides | Summer 2015 Out Here Magazine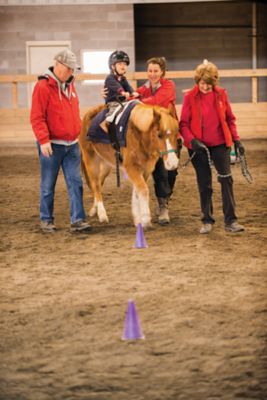 Tractor Supply is honored to promote the Saddle Up! program.
Saddle Up! horseback therapy benefits body, mind, and heart
Photography by Mark Mosrie
The gentle warmth and rhythm of a horse helps coax movements from 4-year-old Dean Brown's body and brain that most other children find natural.
He copes with cerebral palsy. And, the 30-minute session on horseback at Saddle Up! in Franklin, Tenn., is one part of his Friday physical therapy.
Treatment is personalized to his needs. Slow, steady gains make a difference in his life. For example, on the horse he holds a strap that brings his hands to the center, a movement he finds difficult.
His mother, Stefanie Brown, sees the results at home. Dean, whose speech she describes as blurry, can now bring his hands to his mouth to signal he wants food.
"It's worth everything for him to be able to communicate with me, to tell me he's hungry," she says.
For three years, Saddle Up! has offered hippotherapy, a form of physical therapy that uses horses to help treat conditions that include cerebral palsy, spinal bifida, Down Syndrome, and autism.
"But, we're trying to get away from the term, because it's really physical therapy, or occupational therapy," says Sandra Zaccari, a licensed physical therapist who works with Dean. "The horse is just a tool."
Treatment can begin with patients as young as 2 years old. Therapy may continue until a child reaches puberty, when a youth's body is no longer growing.
This form of therapy is only one part of Saddle Up!'s mission. The organization has helped more than 1,100 children with disabilities in nearly 25 years.
The organization also is the beneficiary of the 27th Annual Country Music Grand Prix presented by Tractor Supply benefitting Saddle Up! Competitors from across the nation are scheduled to compete May 30 in Franklin for the equestrian show jumping competition's $40,000 purse.
Tractor Supply is honored to promote the Saddle Up! program. Money raised by the event helps support the organization and children such as Dean.
Dean's increased muscle tone tends to make him stiff, and sitting up independently is a challenge.
"Just straddling a horse starts to relax his inner thighs, and the warmth of the horse starts to relax all of his muscles," his mother says. "Being on the horse starts to give him rhythmical, repetitive movement that starts to relax his body."
Parents of children with physical challenges, like Dean, often search for ways to turn the hard work of physical therapy into something that is both effective and low stress, Brown says.
"When you have a motor-disabled child, and you're in a traditional physical therapy or occupational therapy setting, you're often forcing a child to do something that they can't already do," Brown says. "It's a lot of hard work, and it's not always fun work."
Dean, however, enjoys being on the horse, along with the other benefits beyond physical therapy, his mother says.
"It allows them the opportunity to participate with something that's outside four walls," she says. "And being with an animal as majestic as a horse; he just loves it."
Noble Sprayberry is a Georgia writer.