Fighting Fleas | Summer 2015 Out Here Magazine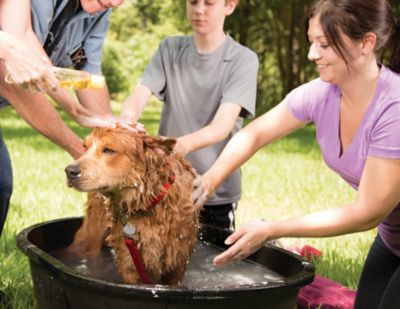 Bites are more than irritating; they can be dangerous to your pet
Flea bites can harm your pet
Those fleas that are causing your pet to scratch constantly may be more than an itchy annoyance; they can cause flea allergy dermatitis — an allergic reaction to proteins in flea saliva.
And a pet's constant scratching can cause permanent hair loss or other skin problems. Fleas feasting on your pet's blood can lead to anemia and, in rare cases, death.
Flea products range from pills given by mouth to collars, sprays, dips, shampoos, powders, and "spot-ons" — liquid products squeezed onto the pet's skin usually between the shoulder blades or down the back.
Treat your pet at the beginning of flea season, advises Dr. Ann Stohlman, a veterinarian in the Food and Drug Administration's Center for Veterinary Medicine.
The length of flea season, which peaks during warm weather months, varies depending on where you live.
"It can last four months in some places, but in other places, like Florida, fleas can live all year long," she says. And fleas can live inside a warm house year-round no matter where you live.
Stohlman offers tips on using chemically based flea repellents:
Read the label carefully before use. If you don't understand the wording, ask your veterinarian or call the manufacturer. "Even if you've used the product many times before," Stohlman says, "read the label because the directions or warnings may have changed."
Follow the directions exactly. If the product is for dogs, don't use it on cats or other pets. If the label says use weekly, don't use it daily. If the product is for the house or yard, don't put it directly on your pet.
Keep multiple pets separated after applying a product until it dries to prevent one animal from grooming another and ingesting a drug or pesticide.
Talk to your veterinarian before using a product on weak, old, medicated, sick, pregnant, or nursing pets, or on pets that have previously shown signs of sensitivity to flea products.
Monitor your pet for side effects after applying the product, particularly when using the product on your pet for the first time.
If your pet experiences a bad reaction from a spot-on product, immediately bathe the pet with mild soap, rinse with large amounts of water, and call your veterinarian.
Call your veterinarian if your pet shows symptoms of illness after using a product. Symptoms of poisoning include poor appetite, depression, vomiting, diarrhea, or excessive salivation.
Do not apply a product to kittens or puppies unless the label specifically allows this treatment. Use flea combs to pick up fleas and flea eggs on puppies and kittens that are too young for flea products.
Wash your hands immediately with soap and water after applying a product, or use protective gloves while applying.