Teenaged Entrepreneur | Fall 2015 Out Here Magazine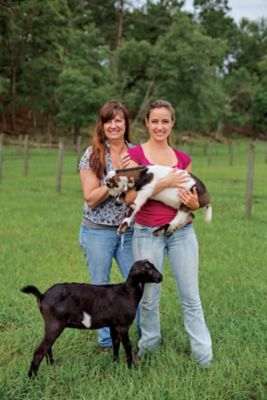 Toni and Lily Perez's La Mancha dairy goats produce high-content butterfat, making them ideal for soap making.
Lily Perez's attention to detail spells success for her goat's milk soap business
By Erin McIntyre
Photography by Betsy Hansen
From the time one of her baby goats enters the world to the moment its milk is used to create skin-soothing confections, Lily Perez is involved in the intricacies of the business she started five years ago with her mother, Toni.
Lily is just 19, but she's been instrumental in helping Simply Caprine grow to offer an entire line of skin-care products.
On the outskirts of Floral City, Fla., the Perez family's 40-acre farm gives their La Mancha dairy goats plenty of room to frolic about the pastures of rolling hills. These happy goats produce milk with the highest-content butterfat of all varieties of dairy goats, making them ideal for cheese and soap making.
It all started when Lily was a toddler, and Toni struggled to find a natural remedy to alleviate the eczema that irritated her skin. She experimented with making soap and discovered a recipe with tea tree oil that helped.
Goat's milk is known for its moisturizing properties. It's also high in Vitamin A and contains alpha-hydroxy acids to help remove dead skin cells.
When Lily was only 8, she saved up money doing chores around the farm to buy her first goat. She chose the first of the La Mancha herd, a doe named Delta.
"I thought they were cute because they have these small, little ears and big personalities," Lily says. A year after purchasing Delta, she bought Cimarron, and used her to establish a breeding program.
They now have 26 goats, with the herd growing every time a new kid is born. That's Lily's favorite part of the business.
"I'm partial to the babies. My mother, she likes the older does because she grows attached to them," Lily says.
Lily and Toni both have strengths they bring to the business. Lily takes the lead in marketing, online promotions, and maintaining the website and blog. Toni spearheads the actual manufacturing, as well as research and development. She likes to call her job the "pot-stirrer."
All the soap recipes begin with olive, coconut, and castor oils, as well as cocoa, shea, and mango butters. Lye is added to saponify, or convert the oils and milk into soap.
Each batch of soap contains 30 percent goat's milk, contributing the moisturizing quality. The products are all natural, without mineral oil, parabens, or artificial ingredients.
One of their top sellers is the complexion bar, gentle enough for any skin type.
"We use Dead Sea mud in it and that's beneficial for drying any impurities or oils from the skin," Lily says, "but the addition of the goat's milk and the essential oils that we use makes it so it doesn't dry your skin out."