Second Harvest | Fall 2015 Out Here Magazine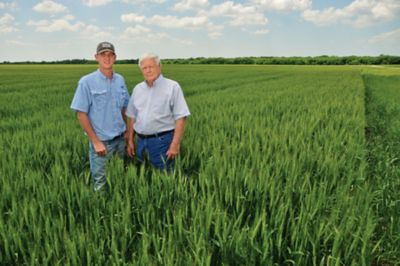 Jack Norman of Howe, Texas, and his grandson, Tyler, are among the farmers who sell straw to IGS, which is the only U.S. enterprise using an all-green process to manufacture straw boards, company officials say.
Manufacturer turns straw into green building material
By Julie Thibodeaux
A Texas company is using an 80-year-old process to transform an agricultural byproduct into cutting-edge green construction material while also providing a second cash crop for local farmers.
IGS Manufacturing Worldwide has been rolling out boards made from 100 percent straw at its manufacturing plant in Fort Worth since 2012.
IGS purchased equipment to make the boards from a manufacturer in Europe, where the environmentally friendly technology was developed in the 1930s. The 300-foot-long machine, nearly the length of a football field, breaks bales apart, sorts them, and pushes the straw into molds, where it is compressed under extreme heat into 4-foot-wide pieces. The rigid boards exit the machine wrapped in organic paper, cut to custom lengths.
"There are no binding agents in it, no carcinogens — just straw," says Tim Evans, the company's vice president of sales and marketing. "It really makes it the greenest material under the sun."
Straw suppliers include about a dozen local farmers, including Jack Norman of Howe, Texas, who will sell straw to IGS after his wheat is harvested this season.
The straw sales provide an additional source of income to offset low wheat prices, says Norman, a second-generation farmer who works 5,200 acres with his grandson Tyler.
Norman had sold his straw to another company that operated a straw board plant in nearby Whitewright, until the business shut down during 2008's economic downturn. In the past, he was paid $7-$10 per bale and typically provided as many as 200 bales a year.
"It's not a 'big' deal but it's certainly worth looking into," he says. "If we're getting only $4 per bushel for wheat, instead of $7, it's a way to get some extra profit."