Healing Touch | Fall 2015 Out Here Magazine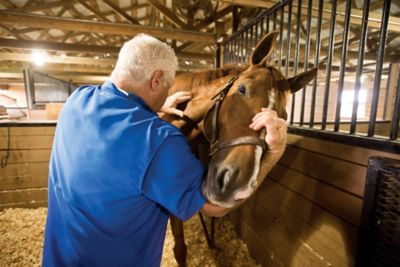 Equine massage therapist Richard Valdez uses massage therapy to relieve pain and inflammation caused by strain injuries and issues caused by different kinds of riding disciplines.
Equine sports massage therapy good for a horse's body and soul
By Colleen Creamer
Photography by Mark Mosrie
Early in his career as a certified equine massage therapist, Richard Valdez got a request from a horse trainer to look at a racehorse with a shoulder issue.
"After finishing dead last in the last several events, this was the last-ditch effort," Valdez says. Indeed, the trainer didn't put much stock in a "spa service" for a horse, but she was desperate.
"I worked on the horse a couple of sessions before his next race," Valdez recalls. "I arrived at the barn the week following the race and the trainer was ecstatic. She told me that not only had the horse finished the race, but he won by several lengths."
Whether your equine companion is a stakes winner or a beloved trail pony, he or she can benefit from equine sports massage therapy, one of the newer practices in the health care of horses. Forward-thinking experts, such as Valdez, of Columbia, Tenn., who sees about 1,000 patients each year, believe it's not only a sound idea, but also a humane idea.
Massage therapy can be used in all riding disciplines: Jumpers experience shoulder and neck trauma; racehorses feel the cumulative effects of running in the same direction; dressage horses may develop issues related to the exacting movements of that discipline; and endurance horses compete in grueling, long-distance events.
Massage, he says, is preventive. "Prevention is really important because most strain injuries are cumulative in nature," he explains.
When he assesses a horse, Valdez narrows down where the issue might be. He begins with some reassuring movements over the hips. Then he will "rock" the horse back and forth.
"I do that to assess how they are responding to shifting their weight," he says.
Valdez uses no tools — only his fingers, palms, shoulders, and elbows.