Doing What's Right | 2015 Fall Out Here Magazine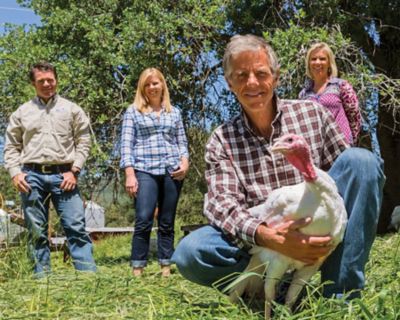 The Diestel family is, from left, Jason, Heidi, Tim, and Joan.
Turkey farmers hold to the past while farming for the future
By Noble Sprayberry
Photography by Tracy Barbutes
Healthy turkeys make a better meal. That's the simple idea behind the Diestel Turkey Ranch, which has been run by the same family for three generations.
"I think folks are becoming more aware of what's in their food, and what it takes to bring poultry to market," says Heidi Diestel, the youngest child of Tim and Joan Diestel. They are part of a Sonora, Calif., family business dating back to 1949.
"So for us, no antibiotics and doing what's right for the animal is the foundation of our farming heritage," she says. "We felt that approach makes a better product."
Heidi's grandfather, Jack Diestel, founded the ranch. Her parents took over the operation in 1982. Heidi and her brothers, Jason and Garrett, continue the heritage.
"Jason and I are back, working in the business each day," Heidi says. "We were always encouraged to work for other folks and to do a lot of other things that interested us. But at the end of the day, if we really had a passion for the ranch and for the farm, then we were welcomed back."
She worked in the hospitality field and in sustainable tourism planning. Along the way, she earned a graduate degree in clinical psychology. Now, she manages customer service for the ranch, as well as embracing other key rolls.
"For us, it's just finding new ways to meet our old-fashioned values. It's not easy, necessarily, doing what we're doing," Heidi says. "Agriculture is very risky, but we really are passionate about bringing quality food to the table and insuring folks know where their food comes from. For us, it's pretty exciting."